The Carolina Panthers are yet again at 1-3 and in need of a turnaround. The good news for them is that the biggest issues they face are not "season enders". Everything can be improved upon as the season continues. If the Panthers can fix these three things, they have a shot at the playoffs again this year.
Cam Newton must take what the defense gives him
So far this season, Cam Newton has looked far from a MVP quarterback. One of his biggest issues is holding on to the ball too long in the hopes a big play will develop down field. Unfortunately for Cam, his offensive line is not providing adequate protection as it did last year. Newton no longer has the luxury of waiting over 3 seconds to throw the ball.
This was on display in Atlanta and contributed to the Carolina Panthers loss.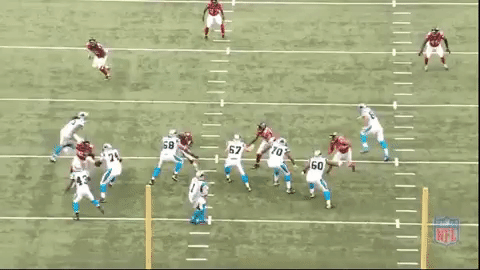 Notice Kelvin Benjamin open at the left hash mark while looking for the ball. This had potential to be a first down or more with only a single defender covering the giant receiver. Instead, Newton chose to stay locked on to Greg Olsen running 30 yards down field despite multiple defenders dropping in coverage. The result? A sack and as Ron Rivera would say, a "missed opportunity".
Is Cam totally to blame for this sack? Of course not, Mike Remmers could have done much better against Dwight Freeney. However, Cam did have a full 3 seconds before getting sacked. Anyone watching the game knew the offensive tackles were struggling. Newton needs to understand he does not have time for the 5+ second routes. The ball must come out quicker.
Offensive Tackles
This may be the most obvious need after watching the Atlanta game. The combination of Mike Remmers at left tackle and Daryl Williams at right tackle reminded us of the days of Byron Bell and Nate Chandler. It should be no shock that the result was the same. Improvement is needed not only in pass protection, but in the running game as well. Williams, in particular, had a terrible game in terms of run blocking, often missing assignments completely.
The good news? Michael Oher should be back more sooner than later which instantly improves the situation a great deal. The combination of Oher at left tackle and Remmers at right tckle has received a lot of ire from fans, but they really are not a bad starting duo. Mike Remmers does look pretty bad at left tackle, but at right tackle he is more than serviceable. Michael Oher, while not a pro bowl player, is light years ahead of anything the Panthers have had since Jordan Gross. The two together helped the Panthers have the highest scoring offense in the league last year, how bad could they be?
About those Safeties
Most of you would probably have guessed the lack of pass rush would be here, or perhaps the young corners. While both of those can be improved, the play at both safety positions this season has been really bad. What makes this devastating is that Kurt Coleman and Tre Boston were seen as an upgrade over last season's duo of Harper/Coleman. They were being counted on to help the young corners along. As it turns out, the veteran savvy of Roman Harper was crucial to the Carolina Panthers success. Who knew?
The Panthers realized this recently and began looking for help. They offered Donte Whitner a contract (according to Whitner) but apparently it did not pay what he was seeking. Then the Panthers signed Stevie Brown, who only lasted a couple of days. Finally, the Panthers landed on the newly acquired Michael Griffin, a two time pro bowl safety in the twilight of his career.
Griffin was partly responsible for Julio Jones' record day against the Panthers. He was often out of position or took poor angles in pursuit of Jones. If he is the answer, and I am not saying he isn't, clearly he will need a few weeks to get into game shape and acclimated to the Panthers defense.
The question of the safeties may be the most difficult one to correct. It may be that there is a legitimate lack of talent available at the free safety position. If Tre Boston and Michael Griffin cannot be improved through coaching, you should probably brace yourselves for many more huge plays at the Panthers expense.