Each week I bring to you the best, and the worst, of what the Carolina Panthers' opposing fans are saying. This week, the New Orleans Saints fans are actually cocky ahead of their Panthers match up. We haven't seen this in years. What a sad state of affairs this season has become when even Saints fans are getting in their punches. When the basement dwellers of the NFC South are taking their licks, things are looking really bad in Carolina.
From Saints Report 
"We can bury Carolina's season this weekend"
"There would be no coming back from 1-5.  1-4 will be difficult enough as it, though apparently 2 teams managed to get into the playoffs after 1-4 starts last year. My guess is that is far more often going to be the exception than the norm. Unfortunately this isn't shaping up to be a repeat of the 2014 NFC South……maybe Atlanta will falter, maybe they won't…..but that whole deal where a 7-8-1 team wins the division probably isn't happening this year."
You know what? I can't even disagree here. The Saints really do have the opportunity to close out the Carolina Panthers season only 6 games in. There is no coming back from 1-5. Not with the Panthers road schedule coming up. December is going to be brutal this year. The Panthers need a nice win streak going into it, starting Sunday. Saints fans should be giddy about the prospect of squashing Panthers fans dreams as retribution for being beaten like a mole faced stepchild the last three seasons. They have a backbone after all.  Good on them.
Although not all of them agree
"A hungry Cam, a hungry Stewart, coming off a division loss……………well. I'm not feelin so good. On the other hand an unexpected win is the cure for what ails ya"
Clearly this person is suffering from PTSD and has not watched a Panthers game this season.
On Cam Newton returning from the concussion protocol
"He didn't have pads on and had a no-hit red shirt. Looks like he'll be ready to go."
It was a non padded practice and all QBs always wear red jerseys. Normally I would assume this silly remark is tongue in cheek, but these are Saints fans. I cannot take that as a given.
"The thing is, we all know he had a concussion in week one's game. Now he has a documented one in week 3.At what point do they shut him down for the season? Their season is almost past the point of salvage, even though that shouldn't factor into a player's long term health. I wouldn't be surprised, with how last season went for the Panthers, if the NFL sent him out there multiple times with known concussions."
Even Saints fans suspect what we all have suspected for quite some time now. Cam Newton was concussed in Denver. When Saints fans who despise Newton are thinking the same things that Panthers fans are thinking…. something is up. Newton just has not been right ever since, and anyone that watches the games knows as much. Hopefully a week off in the concussion protocol has helped. Not for the team, but for Cam's own long term health on and off the field.
"If he plays he is fair game. Key will be covering Olsen. May have to double him and take chances elsewhere. Tough game coming up."
and there you have it. Stop Cam, double Olsen. That makes, what, 24 weeks in a row I have posted that?
Carolina Panthers look-a-likes (link)
I do enjoy a classig look-a-likes thread. I thought this one was pretty good…
"Never knew Kurt Coleman disguised himself as Franky G in Saw II. Shocker"
and this one was fair game on Cam Newon…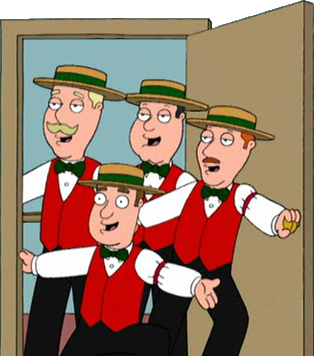 Well played, Saints fans.
That said, Panthers win this game.
Final Score: 
New Orleans Saints – 82
Carolina Panthers – 87
Bank it.