At the end of the Carolina Panthers victory over the Arizona Cardinals, there was a bit of a tense moment between Greg Olsen and the Cardinals defense. As I stood in the end zone I noticed Olsen was giving a group of Cardinals "the business".  Olsen spoke about the confrontation in the locker room after the game.
"We were playing hard football there at the end of the game. We are coming off, we are scratching for every inch. We're hitting, we're finishing blocks." Olsen said.
"This is professional football man, this is big boy stuff. If you don't like it, too bad."
Here are the two plays that led up to the shouting match.
First, Olsen does a really nice job blocking for Stewart. Once the play is over, a Cardinals defensive lineman gives a little extra curricular hit to Olsen who isn't looking.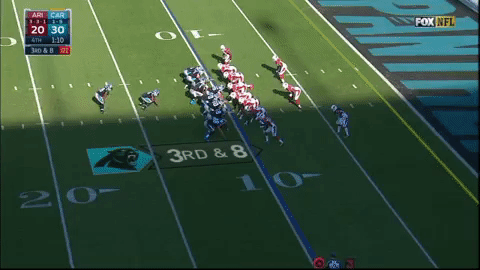 Then, on the next play Olsen pushed DJ Swearinger away which apparently the safety did not appreciate. This began the late game shouting match.
More than anything, it appears the Arizona Cardinals are upset that they always leave Bank of America Stadium with another loss. I have to agree with Olsen here. Don't like it? Too bad.