If Carolina Panthers fans had lingering doubts about Cam Newton's shoulder recovery, today's "Play O' the Day" may help ease those concerns. For the most part, Newton has been holding back on his throws, sticking mainly to the short and intermediate routes. Afterall, the last thing the Panthers need right now is for Newton to aggravate a healing shoulder.
Well today Newton let one fly, and it landed in the hands of tight end Greg Olsen for a touchdown.
From where Newton launched the ball to where Olsen caught it I estimate to be about 45 yards. That is a 45 yard bomb from Newton thrown perfectly to his target. For a quarterback with a healing shoulder, I would say that ain't bad, not at all.
By the time Worley landed, Olsen was already heading for the end zone.
The catch wasn't too shabby as well. Olsen was able to get behind Daryl Worley who tried his best to disrupt the pass. Had Worley been just a little closer to Olsen, it may have worked. But Newton's perfectly placed ball proved to be out of reach for the second year corner.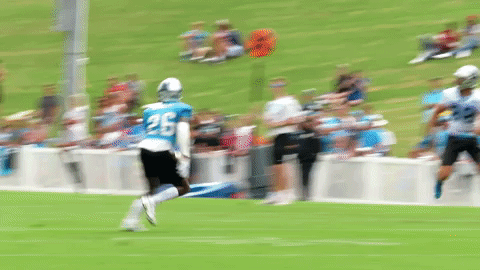 This was by far Cam Newton's most impressive pass so far this training camp. If Newton can string a few more of these together in the next practices, Carolina Panthers fans will have plenty to be excited about.