In the NFL there are combine warriors, and then there are practice warriors.
Combine warriors are the kind of players whose athletic numbers are off the charts, yet show nothing on the football field. Practice warriors are the kind of players who make insane plays during practice, but shut down under the bright lights.
Carolina Panthers runningback Christian McCaffrey is neither of these two things.
Sure, McCaffrey's combine numbers are off the charts good. After all, his 4.22-second 20-Shuttle is the 14th best performance at the combine since 2012, and his 6.57-second 3-Cone is tops during the same span. And yes, he's putting on a show at training camp.
Even so, Christian McCaffrey appears to be neither a combine warrior nor a practice warrior. Instead, he's the real deal.
One good way to determine if the hype surrounding a rookie is legit is to compare their performance in NFL game-type situations to their college production. If the rookie flashes the same traits against NFL level competition as they have in college, the hype surrounding said rookie is justified. If they fail to do that, then the player's demoted to being a mere "practice warrior".
The NFL preseason may be a "glorified practice," but it is the closest thing to a live game. This is where rookies show whether they're up to the challenge of being in the NFL or not. Not every rookie passes this test. Many do not even pan out until a few years later down the road. However, if a rookie looks just the same as he has in college, chances are he's ready for the NFL.
At Stanford, McCaffrey got exposure to NFL-style pass plays, diverse running sets, and protection schemes. Whether it be gap, downhill, outside zone, or inside zone, Stanford's done it all. At the college level, Christian McCaffrey is a patient runner whose vision, elusive nature, and between-the-tackle-running elevated him as one of the nation's best runningbacks.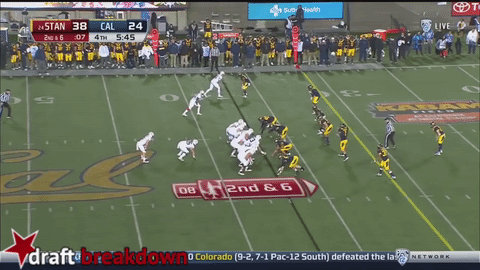 On the play above, Christian McCaffrey reads his offensive line and the defense. He understands that the men up front are still developing their blocks, so he patiently slows down and waits for them to form. Once McCaffrey finds an opportunity, he bursts through the hole and hides behind his two o-linemen.
Christian McCaffrey displays patience, vision, and good decision-making all in one play. These traits make up who Christian McCaffrey is as a runner. Each and every one of these traits shows up in his film. However, the real question is whether his college game translates to the NFL level.
In his first Carolina Panthers preseason debut, Christian McCaffrey shined. On seven carries, he accumulated 33 rushing yards, averaging 4.7 yards per touch. Not bad for a rookie entering his first NFL game experience.
Nevertheless, it's how Christian McCaffrey gains each yard that truly defines whether he's ready for the NFL.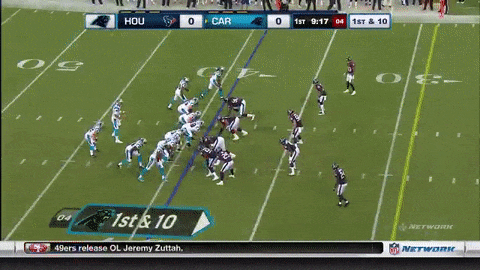 In the highlight above, watch McCaffrey take the carry. What jumps out is how he paces his feet while waiting for blocks to develop. Once the hole opens up, Christian McCaffrey cuts and jumps right in. He runs right behind #84, gets small, and hides to remain out of view. Afterwards, he explodes outward before tripping over someone, and dives for the easy first down.
Under the bright lights and live action of a real NFL game situation, Christian McCaffrey displays the same traits shown at Stanford. He shows his patience as he waits for blocks to develop, vision, and decision making as he burst between the tackles. Christian McCaffrey exhibits everything he's known to do at Stanford for the Carolina Panthers at the same level of skill.
Unlike most rookies, Christian McCaffrey does not show any signs of slowing down when facing NFL level competition. Everything he's shown in college translates in his first NFL preseason debut. Not many rookies can say the same.
This is why all the Christian McCaffrey hype appears to be justified. Based on what he's shown in college and during preseason, McCaffrey will succeed at the next level. Although he will likely encounter a few learning curves, it does not appear that he will have many issues at all with his game.
So, go ahead and get on the RUN_CMC train. It's all justified. Christian McCaffrey is neither a combine warrior nor a practice warrior. He is an NFL ready player who's just getting started.
Christian McCaffrey is the real deal.
——————-
Want to dive even deeper into Christian McCaffrey's college career? Well then, take a look at this. 
Agree? Disagree? You can
sound off right here
with thousands of Carolina Panthers fans.