One position battle that the Carolina Panthers are focusing hard on this year is the battle for the starting right tackle spot. After letting Mike Remmers go in free agency, the Panthers look to find their next starter through training camp.
Currently, Daryl Williams is the favorite to win the starting gig. However, that may not last long. A certain second round rookie is making a lot of noise, and he's not quieting down anytime soon.
His name is Taylor Moton, and he's turning heads.
Beginning since Panthers OTAs, Taylor Moton grabbed the attention of coaches and players alike. "I'm just a sponge right now, soaking up everything that the coaches are telling me to do," Taylor Moton said after the first week of OTAs.
Carolina Panthers All-Pro center Ryan Kalil gave a very good review of the new rookie:
"It's not an easy playbook we have, and his ability to pick it up as quickly as he has is tremendous. I'm really, really excited about this kid. It's still early, but man, this kid is really strong, he's really athletic and he's really eager to learn."
When the Carolina Panthers played the Houston Texans in their first NFL preseason game, Taylor Moton did not disappoint. Not only did he look better than Williams, Moton dominated everywhere on the offensive line. Playing left guard and right tackle, Moton did very well, showing versatility at every position.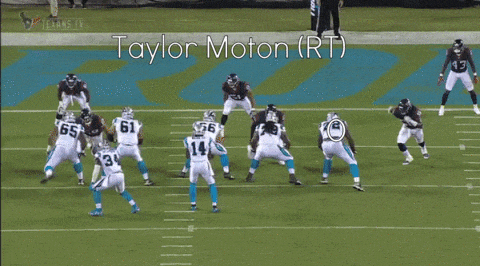 As a right tackle, Taylor Moton appears to be a natural. On the above play, the Texan defender attempts to pull a move on Moton. As the attempt fails, Moton proceeds to display perfect technique with his kick slide and keep the defender at a standstill. The Texan desperately tries to get some push on Moton, but he does not budge.
Meanwhile, Daryl Williams did not do as hot. It's been the case most of his 2016 season. Although Daryl Williams is most certainly an upgrade over Remmers, he doesn't have quite enough athleticism to match-up against certain NFL pass rushers – more specifically speed rushers.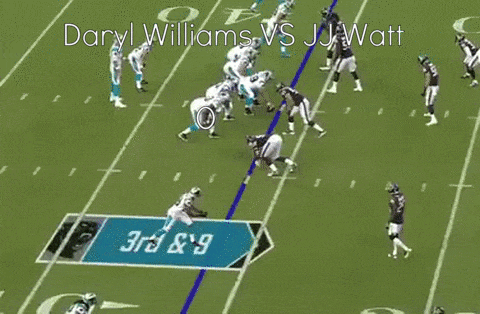 On the play above, Daryl Williams matches up against JJ Watt. Watt beats Williams easy with a simple rip move and gets after Panthers quarterback Derek Anderson. Left with no choice, Anderson quickly checks down to Funchess down the middle to avoid the sack.
Although JJ Watt is by far the NFL's best defensive lineman today, Williams should've done a better job blocking and countering. He needs to keep his distance and get more separation to counter this type of move.
On the other end of the spectrum, Taylor Moton flashes a ton of good technique, athleticism, and strength. His SPARQ score is above average, scoring a 54.3 overall. For a guy his size, he sure moves like he's a lot lighter.
Finally, Moton's versatility along the line increases his stock. Taylor Moton shows dominance when playing left guard. Although that is not his natural position, the coaches recognize Moton's versatility and intelligence and have him line up at that spot.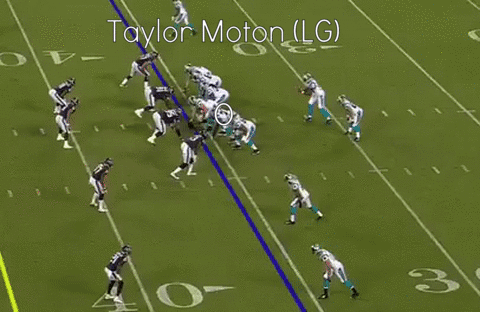 As seen above, Taylor Moton lines up at left guard. He pulls across on the power run concept and engages against the Texan defensive lineman. Soon, the poor Texan gets pancaked to the ground by Moton.
An impressive play at a different position from normal. Taylor Moton makes it look easy with his athleticism and strength.
Now, Moton did play against weaker competition in comparison to Williams. There's no denying that. However, as I said in my recent Christian McCaffrey article, preseason is a way of determining whether traits from college translate into the NFL. The traits and technique exhibited from a player are far more important than the level of competition.
Moton's spider web according to PFF. Pass blocking efficiency is number 3 in the class pic.twitter.com/3mqPaKN5w1

— Billy Marshall (@BillyM_91) March 16, 2017
Moton's technique, play, and athleticism shown in preseason can all be referenced back to his traits shown at Western Michigan. Just like Christian McCaffrey, Taylor Moton did not decline nor hide anything as he played. More playing time with the ones on the right side should only work to strengthen his case for the starting gig.
With that in mind, Taylor Moton could find himself a starting job as soon as preseason is over. With more playing time, flashes, and time with the ones, Moton may impress enough to get the nod over Williams. His past production in preseason, camp, and college justify that move, and the fact he's learning really fast makes it all the more better.
"This [NFL playbook vs College] is a huge adjustment," said Daryl Williams, "but I'm getting more and more used to it and I'm feeling really confident with it."
Taylor Moton is building a solid case for the Carolina Panthers. Don't count him out just yet. He could very well be the Panthers starter this year if he keeps up this level of play.
Agree? Disagree? You can
sound off right here
with thousands of Carolina Panthers fans.