Carolina Panthers runningback Christian McCaffrey is a dangerous weapon. He can make plays anywhere on the field. Whether by running between the tackles, lining up in the slot, or motioning out wide, McCaffrey makes a tremendous impact.
"I'm a football player," McCaffrey states proudly. "I don't put a title on what I am. If you need me to go to wideout, I can go to wideout. If you need me to run between the tackles I can do that as well. There are such a variety of different things I can do and that is something I pride myself on."
One question many people wondered during the preseason was how Christian McCaffrey fits with the Carolina Panthers. After all, the Panthers used to commit to an offense revolving around the deep ball. With the addition of McCaffrey, that concept completely changes. Many even questioned whether Shula was capable of using McCaffrey to the fullest.
Against the Titans, the Panthers showed up with an answer. They lined Christian McCaffrey all over the field, whether be runner or receiver. Although they did not reveal McCaffrey's full potential, the Panthers showed a glimpse of just how they plan to use him.
So, how do the Carolina Panthers plan to use Christian McCaffrey? Well, here's a sneak peak.
Christian McCaffrey As A Runningback
When the Carolina Panthers first used Christian McCaffrey against the Texans, they ran a new style of offensive line blocking never seen much before.
Geoff Schwartz – former offensive lineman turned analyst – caught that subtle change.
The @Panthers running more outside zone with McCaffrey tonight than they ran all last season. He changes the offense.

— Geoff Schwartz (@geoffschwartz) August 10, 2017
Against the Titans, the Carolina Panthers appear to be trying something different by employing Christian McCaffrey in more downhill gap schemes this week. At Stanford, Christian McCaffrey thrived in both outside zone and downhill gap concepts. The Panthers seem to be implementing these schemes in order to maximize Christian McCaffrey's potential as a runner.
Watched C McCaffrey highlights on NFLN. Downhill gap schemes. No surprise, that was his CFB OFF. Called it Draft nt. https://t.co/Znu5c5g9eM

— James Light (@JamesALight) August 19, 2017
Nevertheless, what really counts is what Christian McCaffrey does as a runner. His ability to use a variety of stutter steps, jump cuts, and jukes to avoid defenders and reach the hole allows him to be one of the more elusive backs in the NFL. His unparalleled vision and patience allows him to attain yards and avoid losses on nearly any play.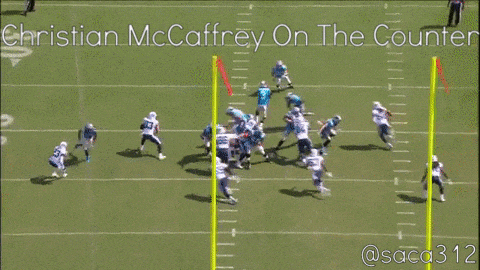 In the example above, Christian McCaffrey runs downhill on a counter. He quickly reads Norwell, Dickson, and Williams making incredible blocks and presses the A Gap. Afterwards, he makes the wise decision to hit wide and let his speed, quickness, and agility take over and reaches the end-zone.
Once again, Christian McCaffrey shows excellent vision. He reads the block nicely and cuts right through the hole once it develops. He makes smart decisions throughout the whole process of the play and rewards himself with a nice touchdown against one of the better run defenses in the NFL.
"Ed did a great job kicking out the backer," McCaffrey recalls. "I just split both of them and just tried to use my speed from there."
As a runner, Christian McCaffrey succeeds in a variety of looks and schemes while making plays. He changes how the Panthers implement their run scheme and fosters success. His vision, elusiveness, and brains make him a huge asset for the Panthers running game.
Christian McCaffrey In The Screen Game
One play call the Panthers seemed to be allergic to were screens. No matter what, Shula appeared to despise screens and never implement them on the field. Whether other NFL teams were successful or not didn't matter; Shula never calls screens.
So it came as a pleasant surprise when Shula actually dialed up a screen. To nobody's bewilderment, it actually worked.
Perhaps it may have been due to Christian McCaffrey being the only player capable of handling such a play, or maybe it could've been a result of Shula actually evolving. Whatever the case, Shula called his first screen in a long time that actually worked.
Wow the Panthers just ran their first successful screen since 2014

— Marxist Panther (@marxistpanther) August 19, 2017
Last year, the Panthers targeted runningbacks on only 13 percent of all pass attempts, far below the league average. This year, that number appears to be changing, and Christian McCaffrey's a huge reason for it.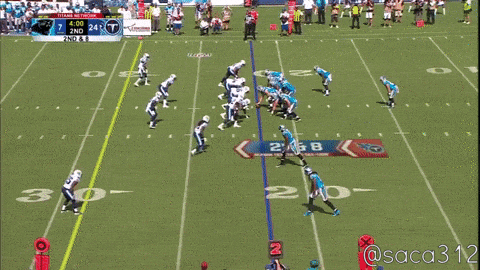 On the above play, Christian McCaffrey comes in and lines up in a screen. The Panthers offensive line perfectly sets up their blocks and space while McCaffrey works his magic. Running in space, he scampers down the field for a large gain and accumulates a total of 38 yards.
What stands out is how fast Christian McCaffrey looks in space. With NFL defenders spaced out, Christian McCaffrey is able to sprint down the field while maneuvering himself away from opponents. The result is a very large gain.
Adding Christian McCaffrey to the offense opens up the playbook to things the Panthers never ran before. Screens may now be common with Christian McCaffrey, as he's a player that can handle the task. As already seen, McCaffrey thrives in space, and using him in the screen game will only serve to benefit the Panthers.
Christian McCaffrey Creating Mismatches
Finally, Christian McCaffrey creates mismatches on the field. Whether through his route running or where he lines up, there's bound to be a mismatch somewhere.
Last year, the Panthers didn't have many mismatch options. With guys like Kelvin Benjamin still suffering from lingering injury issues, to the NFL harassing Cam, the Panthers offense never kicked off like it did in 2015.
This year, Christian McCaffrey changes that.
In the above example, Christian McCaffrey creates a mismatch option just by his actions before the snap. He comes in as a runningback, but splits out wide later on. This forces number 57 to follow McCaffrey, freeing up Kelvin Benjamin on a one-on-one opportunity in the slot. Benjamin is able to win at the line of scrimmage and ultimately come down with the catch.
By motioning McCaffrey, the Panthers offense is able to create mismatches and opportunities on the field. This forces the defense to respect McCaffrey both as a runningback and as a receiver, allowing plays like this to work. Adding Curtis Samuel into the mix should only serve to deepen the wrinkles and mismatches the Panthers have the potential to make, and allow guys like Olsen, Kelvin Benjamin, and others to get wide open.
Christian McCaffrey's mere presence on the field can create mismatch options anywhere. The Panthers have the potential to create one of the league's deadliest option offenses, and McCaffrey's a big reason why. Even with vanilla play-calling, he still makes an impact.
"It's preseason so it's pretty vanilla right now. But it's definitely real good and getting loose a little bit," McCaffrey admits. "It's also kind of a tease because as soon as you feel like you're in a rhythm and you're ready to go, you get pulled. But that's what the preseason is for, just get ready to roll."
Christian McCaffrey transforms the Carolina Panthers in many ways. His preseason performance is only scratching the surface. He has the potential to dominate and revolutionize the Panthers offense in ways never seen before.
Agree? Disagree? You can
sound off right here
with thousands of Carolina Panthers fans.