As the Carolina Panthers head into San Jose to play the San Francisco 49ers, optimism is high for the faithful 49ers fans. Of course, this is nothing new. In San Francisco, optimism is a lot like wearing white. Short lived after labor day. Here are a few nuggets of wisdom from our friends on the left coast.
Assumptions are being made about the Carolina Panthers offensive line.
"The Panthers o-line is not good. It will be very difficult for Cam to hit the deep ball with their slow receivers (no more Ted Ginn) and behind this porous offensive line."
This is a common sentiment as I scour the interwebs in search of 49ers fans capable of stringing together a coherent sentence (it ain't easy). While I think it is fair to question the Carolina Panthers offensive line, assuming they are not good at this point is a reach.
The Panthers have one of the best interior offensive lines in the NFL. With two new starters at the tackle positions, they very well could have an average offensive line or actually a good offensive line. The last time that happened Cam Newton won league MVP.
This 49ers fan thinks he knows the path to victory
"I had a dream. Five minutes into the first quarter, Thomas and Foster meet at the "Cam", Newton is knocked out of the game, Derek Anderson comes in and throws three picks and loses a fumble. At 14 to nothing, we start rotating Brieda and Mostert in, and their speed, vision and cutback ability make our interior linemen look good. Their receiving, along with Kittle and Juszczyk, allows us to coast to a 31 to zero win, with Hyde getting a second half rest."
Making NFL predictions during a mushroom induced hallucination should be avoided. Sure, they make the grain of your floor boards interesting as hell, but they do you no favors here. Now sober up and get working on my coffee order. Soy pumpkin spice latte, extra foam. If my name is spelled wrong on the cup there will be hell to pay.
Apparently, even sober 49ers fans think this is going to be a blowout.
49ers 42 Panthers 21
Beathard 12-18 275yd 5TD 2int
Gallman 16att 117yd
Kittle 6rec 122yd 2TD
Garçon 3rec 85yd 2TD
Lynch 2sck@DaDYNASTYCFM

— Keith Stone (@DML_9ers) September 4, 2017
Listen, I understand that Kyle Shanahan's offense gave the Carolina Panthers defense fits last year. But the Atlanta Falcons had honest to goodness NFL caliber player. Matt Ryan, Julio Jones, Devonta Freeman. Meanwhile, the 49ers are stuck with Brian Hoyer. A guy that wasn't quite good enough to keep a job with the Cleveland Browns.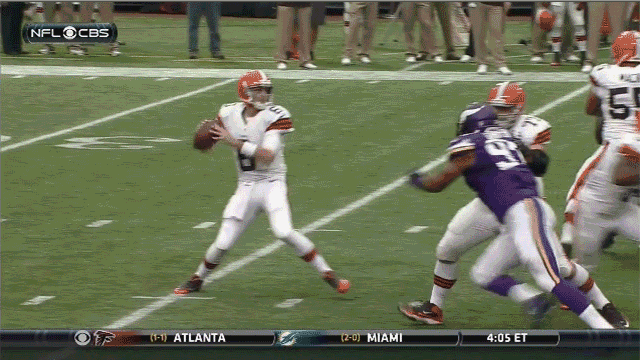 Next up, the signing of Ben Boulware to the 49ers practice squad is a hot topic.
I understand the enthusiasm. Many Carolina Panthers fans felt the same way. Unfortunately, reality set in rather quickly. While Boulware had the ambition, he just lacked the physical tools to get the job done. It happens to so many great college players. So take it from us, you may want to temper your excitement.
49ers fans love Christian McCaffrey, apparently.  
Pretty close i would say. He definitely is a different kind, and staying with him will be a challenge. But Reuben's closing speed may be the ticket. I hope McCaff doesn't leave Reuben in the dust. And yes, he is shifty. He's also small and hard to find amongst the behemoths out there. He has to be something special to have made it this far. He weighs less than half of Trenton . Once you see him play you will understand what he is doing starting for Panthers. He is that good.
49ers fans know more than most about the Stanford running back. When was the last time that Cam Newton was not the most highly anticipated offensive player for the Carolina Panthers?
It all starts Sunday. Hold on to your butts.
You can discuss the 49ers game with myself along with hundreds of Panthers fans right here.
Agree? Disagree? You can
sound off right here
with thousands of Carolina Panthers fans.