When the Carolina Panthers traded Kelvin Benjamin, most people thought they were crazy. After all, this was the same receiver who eclipsed 1,000 yards as a rookie. It seemed unreasonable for them to get rid of their best statistical receiver thus far.
Nevertheless, Carolina Panthers GM Marty Hurney assured everyone he knew what he was doing. Taking a look at the roster, he figured he had to do something to get the offense going. So, when Buffalo gave him a call and offered a trade, it was a no-brainer.
"Kelvin was a very good player and was productive for us. It was more getting a mix of skill sets on the field and more speed," Marty explains. "We've got some young players who we think have some real ability."
In Hurney's opinion, Kelvin Benjamin was to the Carolina Panthers a source of constipation; someone who really didn't fit in. To relieve that constipation, he knew he had to spew Kelvin Benjamin elsewhere when the opportunity came. It was the only way to get everything flowing again.
To add on, Marty mentions his trust and excitement for the Panthers younger receivers and players. He figures their diverse skillset and speed will serve to better the offense without Kelvin Benjamin. He also shows his complete trust in Funchess to be a WR1 for Cam.
So, it was only natural for many to question whether Devin Funchess was ready for his bigger role. Could he handle the tougher competition he'll be facing from here on out? Will he be able to fill in Kelvin Benjamin's shoes without missing a beat?
Devin Funchess gives his input on his newfound role.
"It's going to be fun."
And boy, it sure has been.
An Offensive Weapon Unleashed
After the Kelvin Benjamin trade, many questioned whether the Panthers offense would even be half as good without him.
After two weeks, it's safe to say it looks a whole lot better.
Over the past two games, the Panthers offense flourished, averaging 439 yards of total offense over that stretch. Their run game also exploded, achieving 200+ total rushing yards two games in a row.
During that same time span, Devin Funchess accumulated 178 yards on 10 catches for 2 touchdowns, averaging 17.8 yards per catch and 13.7 yards per target. He gave Cam Newton a QB rating of 157.9 and a 77% completion percentage. He also achieved an incredible successful play rate of 77% and helped convert 8 first downs.

Devin Funchess has been the Panthers best WR by far. It's incredible to see how nicely he's fitting into his new role.
To compare, notice Devin Funchess' production compared to the NFC South's best WRs over the same two week period:

Devin Funchess (CAR): 10 Catches | 178 Yards | 17.8 YPC | 2 TD |
Michael Thomas (NO): 17 Catches | 182 Yards | 10.7 YPC | 0 TD |
Julio Jones (ATL): 12 Catches | 175 Yards | 14.6 YPC | 0 TD |
Mike Evans (TB) Prior To Suspension: 6 Catches | 73 Yards | 12.2 YPC | 0 TD
Considering these statistics, here's how Devin Funchess compares:
1st in the NFC South in touchdowns over the past two games (2).
1st in the NFC South with average yards per catch over the past two games with an astounding average 17.8 YPC.
2nd in the NFC South with total yards over the past two games, ahead of both Mike Evans and Julio Jones.
1st in the NFC South with successful play rate, garnering a percentage of 77% over the past two games.
1st in the NFC South over the past two games in QB Rating with 157.9 when thrown to, well ahead of Michael Thomas with the second best of 102.8.
2nd in the NFC South in total first downs with 8 over the past two games.
2nd in the NFC South with completion percentage, garnering a 77% rate when thrown to over the past two games.
1st in the NFC South with average yards per target over the past two games with 13.7 YPT.
These are amazing statistics, especially compared to some of the NFC South's best. He's practically in the top 2 in every meaningful category. None of these receivers are slouches either, and Funchess finds himself with the best of them.
Improvement That Shows
When Devin Funchess entered the NFL in 2015, he was one of the youngest at the age of 20. During his rookie season, he showed plenty of flashes, but never found much consistency. However, for a young receiver his age, it's not surprising that it'd take a little time for him to grow.
Entering year three, it appears Devin Funchess finally found his groove. At his current age of 23, he's still younger than current rookies Cooper Kupp, Kenny Golladay, and Dede Westbrook. It's still pretty mind-blowing that a year three veteran is younger than plenty of rookies.
On the field, he shows plenty of improvement with route-running and situational awareness. While in his rookie year, he was comparable to a deer in headlights on the field; unsure what to do. Nowadays, he understands the NFL better, and it shows.
Against the Dolphins, he showcases his improved route running and awareness on one particular play.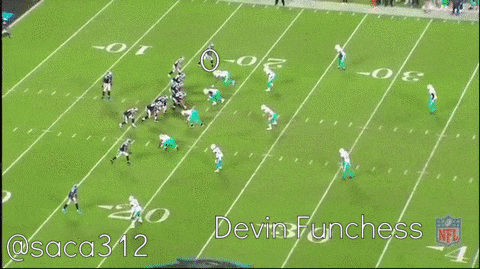 On this play, the Panthers face a 3rd down. The Miami defense is in zone with Devin Funchess lining up to the left of Cam. On the snap, he runs a hitch route and does enough for the first down.
What's incredible is how Funchess completes this. He begins by running and selling the outside route to the corner ahead of him. Since the corner thinks the Panther receiver is going outside, he sits back, consequently allowing Funchess to gain leverage inside.
Once he gains enough depth, Funchess quickly turns around on his hitch route. The timing of this was impeccable; causing Miami defenders to be 2+ yards ahead of the first down marker. Afterwards, he runs back to the first down marker, allowing Cam Newton to throw a beauty.
An easy third down conversion for a first down. A very intelligent play with even better results.
Athleticism And Potential
One thing Devin Funchess has going for him is potential. As a young receiver, he still has plenty of years ahead of him in the NFL. Couple that with his great athleticism and measurables, and he's going to be a good one for a while.
According to NextGen stats, Devin Funchess achieved a max speed of 20.48 MPH on a 28 yard play against the Dolphins. That speed is equal to Brandin Cooks' and Ted Ginn's top speed this year. As a 6'5 receiver, that's crazy good.
Against Atlanta, Devin Funchess' athleticism and speed helped aid him to one of his biggest plays on the day.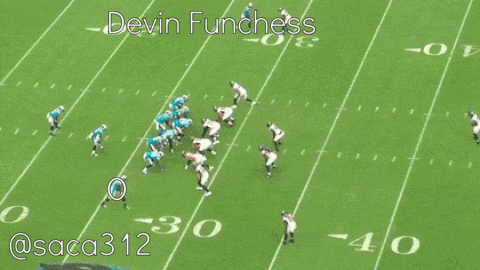 On the play above, Devin Funchess lines up as the Z receiver in this formation. His assignment is to run a deep dig route from the Panthers Y-cross concept against the Falcons cover 3 cloud. In theory, he'll find himself wide open in a vacated zone for a big play.
Cam Newton goes through his reads from the play-action and delivers a strike to Devin Funchess, who proceeds down the field for a large gain. While what Cam does as a passer is another subject in it of itself (CanadianPanther goes over it well here), focusing on Funchess shows something just as incredible.
Devin Funchess begins by running his deep dig and turning at a good pace towards the middle of the field. Once the ball's in his hands, he shows great ability to gain YAC to turn this into an even bigger play.
When he runs into his first Falcon defender, Funchess uses his great physical strength and athleticism to just brush off the tackle and skirt towards the middle. The defender finds himself on the ground and in the dust as Funchess pulls away even further.
Afterwards, he uses his speed to break away from two other Falcon defenders in pursuit. Gaining another 12 yards after the first missed tackle, the Falcons finally catch up and bring down the giant wide receiver.
An incredibly athletic play all around from Funchess.
Catching The Hard Balls
One of the biggest issues during college for Funchess was his hands and reliability. While his 8.8% drop rate during his Junior year isn't the worst drop percentage, it still is pretty significant.
However, those concerns quickly melted away over the course of his NFL career. Currently, Devin Funchess has a 1% drop rate for the 2017 season with only one drop so far. He's been extremely reliable, converting 7 out of 8 third downs and catching some really tough balls over the past two weeks.
Against the Falcons, he had one of his biggest catches on the very first play.
On a 3rd and 9 play, the Panthers line up with a bunch formation to the right with Devin Funchess as split end. The goal of this play is to get Funchess open on a quick slant for a fast third down conversion.
What's incredible is how Devin Funchess adjusts to the throw.
On the snap, he runs his quick route and gets himself open down the middle. Cam Newton faces pressure, which forces him to hurry and throw the ball.
Funchess acknowledges this and pays attention to where the ball is going. Noticing the ball is far from accurate, he realizes he needs to make a big adjustment to have a chance at grabbing the ball.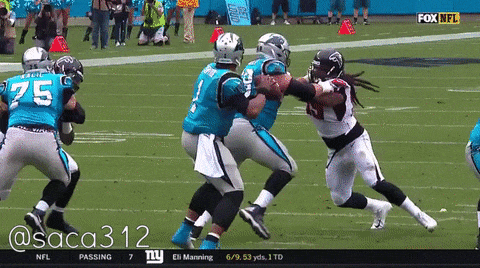 Using his incredible flexibility and athleticism, he lowers himself while falling to have a chance at grabbing the low ball from Newton. While Cam rarely throws these kind of bad balls, it still is something that happens even to the best of them. Once lowered, Funchess adjusts and extends his arms downward for the catch and secures the ball.
An amazing adjustment for a poorly thrown ball. Very unlikely that Kelvin Benjamin would make that same play.
The Future
Underrated – Funchess looking really good.

— Nathan Ray (@saca312) October 1, 2017
Currently, Devin Funchess is showing exactly what Dave Gettleman saw when they traded up in the 2nd round to draft him. His play over the past two weeks has more than justified his new position as split end. Considering his youth, it's very likely Funchess is only scratching the surface of his full potential.
Going forward, it's very likely defenses will start looking out to Funchess as a legitimate threat. He will need to show he can play through times where defenses may try and double him or hone in on him. If he truly wants to establish himself as a WR1, he needs to prove it.
Right now, there's only a two game sample for Devin Funchess being the Panthers WR1. He needs to remain consistent going forward and display the same traits shown over the past two weeks. Only then will he be in the same conversation as the rest of the NFC South's top receivers.
Even so, Devin Funchess has proven himself to be a very big weapon for the Carolina Panthers. Currently, his play is pretty similar to another great Panther in Muhsin Muhammad. Both receivers are very fluid athletes, with Moose being a solid pair with Smitty.
If Funchess can keep his current rate of play up, he'll be a good receiver the NFL will look out for. His athleticism, potential, and intelligence allows him to potentially be a big threat in the NFL. He has plenty of quality traits already, and really consistency is the only main issue.
However, as of now, the Panthers offense has certainly been better without Kelvin Benjamin. There's more speed, diversity in skillset, and production.
And it all starts with the emergence of Devin Funchess.
Agree? Disagree? You can
sound off right here
with thousands of Carolina Panthers fans.