Round 1: Stephon Gilmore, CB, South Carolina
#9 may be a little high for him, but he's a big corner (6'1") with 4.4 flat speed and 31 inch arms. That kind of combo doesn't come along often and even the talking heads have him as a top 15 guy now. This guy is a solid tackler and is best in man to man coverage. He is very good a play tough at the line and isn't afraid to come up and lay a hit in run support. Pair him up with Gamble and we have one of the best CB duos in the NFL. Not to mention, this allows us to slide Captain back inside where he is better suited
.
Round 2: Kendall Reyes, DT/DE, UCONN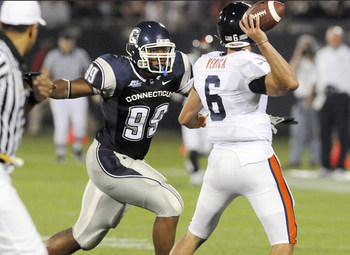 He played DE and DT at Conneticut, but didn't get a lot of sacks. He is decent at getting inside pressure and plays the run well. His frame is large enough to add more weight without losing much of his speed or agility. He would make a great addition in our rotation of Edwards, Fua, and McClain.
Round 4: T.Y. Hilton, WR, FIU
This guy is a blazer (4.33 40) and could be a great deep threat in our offense. He's built similarly to Steve Smith (5'10, 183lbs) and is fantastic with the ball in his hands. He could potentially be a fantastic kick/punt return that we desparately need.
Round 5: Danny Trevathan, LB, Kentucky
This guy is a tackling machine. He was mostly overlooked because of being part of a sub-par Kentucky unit during the past two years. He is an average athlete but he has a nose for the ball and is decent in coverage.
Round 6a: Andrew Datko, OT, Florida State
Athlete tackle who did pretty well at FSU. He has some good initial quickness and would be great depth at both OG and OT. On concern is that he has had multiple shoulder surgeries and it could be a risk.
Round 6b: Vontaze Burfict, LB, Arizona State
This guy is all over the place. Flashes of first round talent with big plays and even bigger hits, but has terrible measurables and interviews. I think the right coaching staff could turn him into very solid player and he is worth the risk with our compensatory pick.
Round 7: Drew Butler, P, Georgia
Specialists from UGA have worked well for us in the past. Butler has a strong leg with a 44.3 yard average last year which was good enough for 13th in the nation.