Firstly, I will have two scenario's. One in which we address Dline first, and the second where we go in another direction. I will only cover the first two picks, because the rest are so up for grabs, and honestly, I have no been looking at every player in the nation to know who to choose in the later rounds.
Here is scenario one:
Round 1- Fletcher Cox DT Mississippi State
This guy is a beast, and has freak athleticism, he may not be a stud against the run just yet, but he will get penetration, and will most definitely get sacks.
Round 2
Jayron Hosley CB/PR Virginia Tech
This guy has great speed, and has great ball skills. He seems like the biggest baller in the cornerback class, he has swag and he likes to get to the ball. He is a straight playmaker. Worse comes to worst, he would be a great free safety for us.
Scenario two:
Round 1
Stephon Gilmore CB South Carolina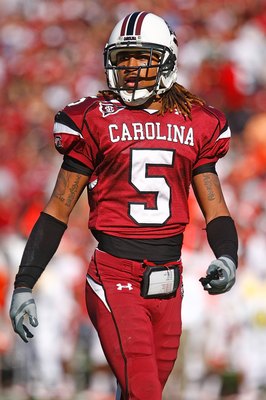 Yes, I can feel the hatred. However, this guy has decent tape, and great measurables. The upside for this guy is so high. Yes, I know you can pull up some tape showing him having a bad time, but he simply has the measurables, and is only getting better
Round 2
Nick Perry DE, USC
This guy would provide immediate help on the opposing side of Charles Johnson to wreak havoc. I feel like this guy is one of the safer picks you could make in this draft, and it is a great value pick here, while also filling a need.
These are my two scenarios, in which two needs are filled, and with premium talent.