Here's my second projection of how the draft will go if I were GM, also including FA moves and roster projection for the 2012 NFL season.
1st pick (5th or 6th overall)
Matt Kalil OT USC
As things stand right now, most mocks have him going with the second overall pick. Yet I believe there will be shake ups come draft time. With the new rookie cap firmly in place, more teams will be willing to trade up for star QBs in the draft, because that is exactly what you need to compete in this league. If things go according to my projections, Kalil should slip out of that firm top 3 grip, and possibly slip to us if we are in position. (5-6) Kalil will automatically make our line one of the best, if not the best o-line in the game. This pick would also free up Otah to possibly play RG once he comes back. Imagine the monstrous line of Kalil-Wharton-Kalil-Otah-Gross. I fear we would be breaking federal laws with this kind of line.
2nd pick (A trade back into the 1st round within the 20-30 range. Cost = next year's 1st and a couple of players)
Vontaze Burfict LB Arizona State
This OLB class looks pretty bad. So I said to myself, who among the ILB would best fit an OLB role in the NFL? The answer I came to was Vontaze Burfict. He has great speed for his size, and racked up 5 sacks playing from the middle of the field. Imagine what he will do playing closer to the line on the outside. Now, I'm afraid Vontaze is a Lavar Arrington 2.0, but with Rivera at the helm, he would turn Vontaze into a bonifide superstar. I do admit this is a pretty substantial move to make if Thomas Davis comes back fully healthy, but it could give Burfict a chance to really learn discipline under our core of linebackers. By the time Rivera, Beason, Davis, and Anderson are done with him, Burfict will be the most polished linebacker on the team. (And I say that to Beason's credit to shape a linebacker to be even better than he is.)
3rd pick (2nd round with trade down to pick up extra 3rd)
Derek Wolfe DT Cincinnati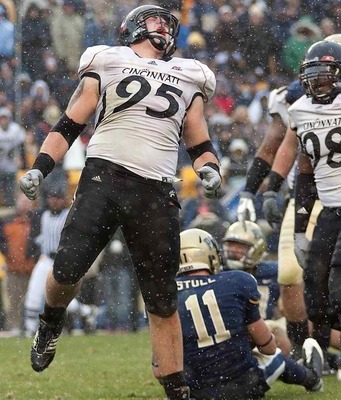 He's had a pretty good college career, and really has come on strong as of late. He's a consistent tackler in run defense, and he's shown to have prime pass rushing ability for a DT his size. He has the chance to become a fan favorite here in Carolina.
4th pick (3rd round)
Delano Howell S Stanford
Delano had an outstanding 2010 season and had he come out for the past draft, he would have been a first rounder-early second rounder for sure. Yet his numbers dropped this season due to injury and perhaps a little respect from teams not throwing his way. With Sherrod's terrible play this season, drafting a safety here will be the safest thing to do. I believe Delano has primetime ball skills, and he is sure tackler.
5th pick (4th round)
Robert Blanton CB Notre Dame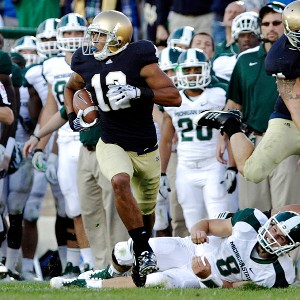 I feel like a mad genius everytime I talk about this kid! He's a corner that no one is talking about, but I feel he will have a very successful NFL career, even historical career. He's a big, lanky corner who has the ability to be on his receiver like white on rice. Now, I was somewhat disappointed with his performance against Stanford, where he gave up 2 TDs playing zone coverage, but again he played awesome man-to-man coverage in that game. (He would have had an interception in that game if it wasn't for offensive pass interference) Most of you will hear about him during the combine.
6th pick (5th round)
Korey Williams LB Southern Miss
I don't think Dan Connor is worth re-signing. I haven't seen much improvement from his rookie year. So with that, Korey Williams is a guy that has decent pass coverage skills, and that is an important thing to have when playing MLB. He would be a good back-up to have for Beason, or a good back-up to Beason and Thomas Williams.
7th pick (6th round)
DeVonte Holloman SS/LB South Carolina
Good special teams depth who can play linebacker and safety. Now a little while ago we drafted Thomas Davis, who eventually became our full-time linebacker. This time around, with Holloman, we should make Holloman a safety. Some of you guys want Laron Landry in FA, well, this guy can be a consolation prize in that area.
8th pick (7th round)
Case Keenum or Kellen Moore
Clausen will most likely be released after this season, and Derek Anderson could also be gone. So it's time to groom a back up for Cam. You see, the Colts failed to do this, and you see what they reaped because of it. I project if Case slips a little bit, he will be our 7th round pick. He doesn't have great size, but is very accurate with his passes. Kellen Moore is also a very accurate passer, perhaps either of these two can become Drew Brees like.
Free Agent Projections: Mario Williams, Roscoe Parrish, Shaun Powell (UFA), Robert Golden (UFA)
Roster Projection:
Offense
QB: Cam Newton, Derek Anderson?, Case Keenum ®
RB: DeAngelo Williams, Jonathan Stewart, Mike Goodson
FB: Ritchie Brockel
WR: Steve Smith, Brandon Lafell, Kealoha Pilares
WR: David Gettis, Legedu Naanee (he's earned a spot), Roscoe Parrish (FA)
TE: Greg Olsen, Jeremy Shockey, Gary Barnidge
LT: Matt Kalil ®, Garry Williams
LG: Travelle Wharton, Geoff Schwartz
C: Ryan Kalil, Geoff Hangartner
RG: Jeff Otah, Mackenzy Bernadeau
RT: Jordan Gross, Byron Bell
Defense
DE: Mario Williams (FA), Thomas Keiser
DT: Jason Shirley, Derek Wolfe ®, Terrell McClain
DT: Ron Edwards, Andre Neblett
DE: Charles Johnson, Antwan Applewhite
OLB: James Anderson, Jordan Senn
MLB: Jon Beason, Thomas Williams, Korey Williams ®
OLB: Thomas Davis, Vontaze Burfict ®
CB: Robert Blanton ®, Darius Butler, Robert Golden ®
FS: Sherrod Martin, Delano Howell ®
SS: Charles Godfrey, DeVonte Holloman ®
CB: Chris Gamble, Brandon Hogan, Capt. Munnerlyn
Special Teams
K: ?
Punter: Shaun Powell (UFA)
KR: Kealoha Pilares
PR: Roscoe Parrish (FA)