Registry: USS Enterprise NCC-1701-C
Class: Ambassador
Service: 2332 – 2344
Captains: Rachel Garrett (Tricia O'Neil), Richard Castillo (Christopher McDonald)
This ship appears in the Next Generation episode "
Yesterday's Enterprise
" (1990). It was destroyed attempting to defend the Klingon outpost Narendra III from Romulan attack. Survivors included Tasha Yar (Denise Crosby), whose alternate timeline version from "Yesterday's Enterprise" travels with the ship back in time to the battle over Narendra III. The actions of the Enterprise-C's crew became a catalyst for the alliance between the Federation and the Klingon Empire.
http://www.etsy.com/...c-1701-c-coffee
This Star Trek table is made from ash, poplar and cherry wood. It took me a month to build it and 2 tries to cut the 1/4" glass the way I wanted but it turned out nicely. The glass is cut to look as though its in motion and the base was designed to portray the ship in orbit over a planet. It has a beautiful rubbed poly finish coat for complete protection for many years to come. Its solid, sturdy and you CAN put your feet up on it after a long day at the office. This is a one of a kind! You will not see another one like it. Glass dimensions are 34" x 54" x 17" tall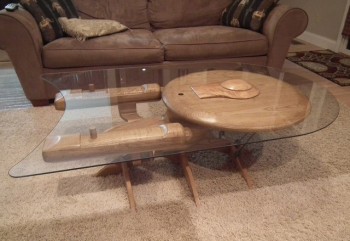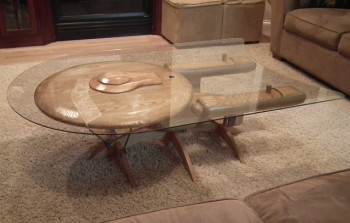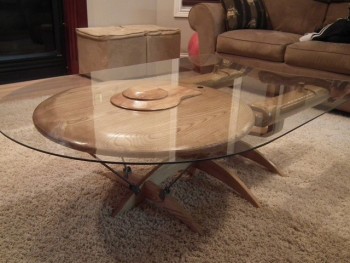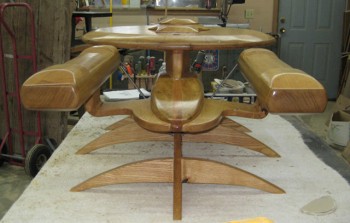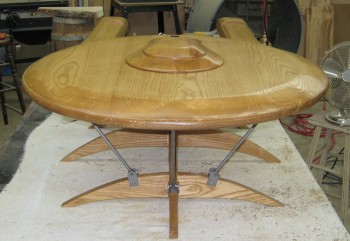 Edited by Jangler, 27 January 2012 - 03:48 PM.