The true origin of his towel is unknown but the first known appearance of the towel is seen here in a photo of the great muhammad ali after beating liston for the first time.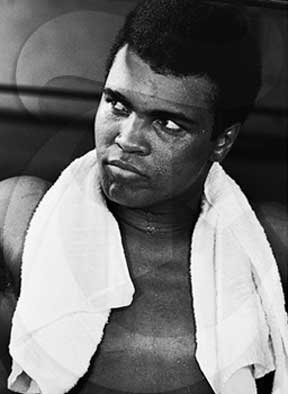 Its been said that after every fight Muhammad would drape this over his head in the showers and contemplate about his life and how he wanted to be the best. The towel felt this energy and absorbed it from Ali ever day untill Ali defeated George foreman. After the fight ali threw his towel into the crowd without thinking and he's regreated it ever since.
for a couple years the towel is said to of taken some side jobs at various hotels and bathrooms till it found its way to a young man named michael jordan seen here.
He loved that towel which he kept with him till 1996 when he lost it in the championship to a young women who was a rapid fan of his and also coincidentally the maid to arnold schwarzenegger. One night the towel saw something horrifying between arnold and his new found owner the maid which he kept secret until 2007 when a kid from the special olympics used him as a snot rag causing arnold to throw him away. The towel angry that arnold didn't bother to wash him left a note for maria shriver about his what he saw which would we later be revealed in 2011.
After making it to the states the towel found its self in a recycling bin headed to a gatorade products processing plant where it was tortured for hours until it came out of the machine with horrible painfull G markings all over its body. Mortified the towel ran away and hid in the offices of statefarm only to be stolen by none other then aaron rodgers
The energy of the towel from its previous owners would propel aaron rodgers to a superbowl championship. Aaron rodgers eventually moved on and so did the towel. For the next couple of the months the towel would go from owner to owner even being held by a man named jimmy clausen from which the towel sucked all the energy out of cause he was unworthy. That is until a curious young man by the name of Cam newton picked him up after his first day of training camp in 2011 where it now resides. although sometimes being replaced by his gay pink brother.