after today's whirlwind, I've decided it's time to make a new mock.
Projection:
third overall pick
I'm also predicting we trade Jon Beason for a fourth round pick. I love Beason to death but we're really starting over and he's serving no purpose right now. His contract is a little rough but I think we can get a fourth for him.
Round 1. Star Lotulelei. Defensive Tackle. Utah. 6'4". 325.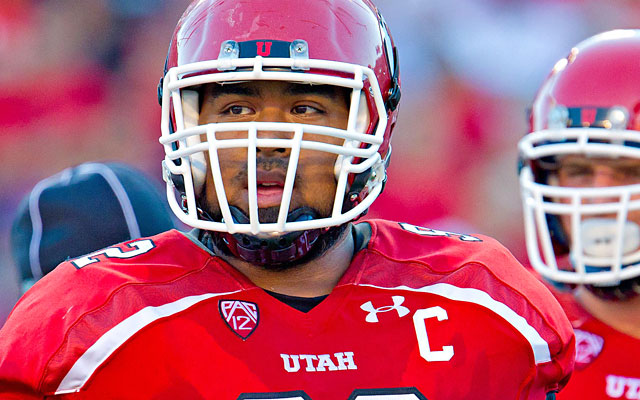 I agree, our biggest need is on offense. Most notably at wide receiver and offensive line, but when you're going into total rebuilding mode like it looks like we're about to you start by taking the best player on the board when you're selecting. I think we're gonna choose third and I think we use that on Utah defensive tackle Star Lotulelei. Defensive tackle has been a glaring weakness for years now, surprisingly it hasn't been brought up as often this year because of all the other huge needs but it's still a need. In yesterdays game vs the Dallas Cowboys we never sacked Tony Romo, how our defense only gave up 19 points I'll never know but that is still pretty pathetic and you won't win many games if you can't sack the quarterback. Kuechly has been great against the run and adding Star on the line really locks down our run defense for the future in my opinion. Lotulelei has an outstanding physical set as he has a rare combination of power and speed. I haven't seen a man with the ability to toss around offensive lineman as good as Star can since Ndamukung Suh. He needs to add some pass rushing moves but his potential is scary.
Round 2. Dallas Thomas. G/OT. Tennessee. 6'5". 310.
Going to the other side of the offensive ball in the second round, the offensive line needs multiple upgrades. Amini Silatolu has really struggled but it's not fair to give up on him yet, he's learning an entirely new position and just a year ago he was playing at the division two level. Jordan Gross is aging so going forward, in my opinion, we have two spots on the offensive line locked down. Center in Ryan Kalil and Byron Bell who can play guard or tackle, whichever the coaching staff feels he is better at. Bell is going to be a future staple on this offensive line. So here's a borderline first-second round pick in Dallas Thomas out of Tennessee. Thomas plays tackle at Tennessee but most scouts say he has the ability to play guard also which really makes him an attractive NFL prospect. At 6'5" 310 he may be better suited to play tackle in the NFL.
Round 4. Conner Vernon. Wide Receiver. Duke. 6'2". 195.
Here's a player I really, really love. Vernon seems to be a great prospect as a future number two receiver or slot man in the NFL. He has a nice combination of size and quickness and has sure hands. We need to get more targets for Cam, this dude is not our future number one but he can be our future number two or three. Brandon LaFell has been pretty disappointing after a fast start to the season and Steve Smith is getting older. I wouldn't even be totally shocked if Smith isn't on the team next year. Receiver could be a much higher priority next offseason, but there's no one I'm in love with in the first round when we'll be picking and I'm still assuming Smith is back next year. Vernon is the best NFL prospect Duke has had in years and I think he would be a great fit in our offense.
Tyrann Mathieu. CB/S. LSU/Rehab. 5'9". 175.
Pick from Beason trade.
I know what the reactions will be to this pick. "You're just taking Honey Badger because he will fill the stadium," blah blah blah. Shut up. When you think about it he makes perfect sense right here. He has the ability to play corner back or safety and I really don't think Captain will be back next season. The dude is a play maker and is going to go up and get it even if he is undersized. I'm concerned about him taking a year off but it also assures us that he's a smart kid that has his priorities in line. In addition to his solid coverage skills he is am amazing punt returner, and no, I'm not ready to give up on Joe Adams yet but that just comes with Honey Badger's skill set. I think Captain is gone and if he is he makes perfect sense here.
D.J. Swearinger. S. South Carolina. 6'0". 210.
No one can be worse than Nakamura, sheesh that man is terrible. I'm not saying this man is our future at free safety but give him a chance at least. So far one the year for the Gamecocks Swearinger has 16 tackles with 5 pass deflections and an interception. As a junior he had 80 tackles and three interceptions. He's not an elite prospect by any means but I Iike him as a sleeper right here and he would have a great chance to start immediately. This team just has so many needs right now.
Round 6 - Louis Murphy
Round 7. Chase Clement. TE. LSU. 6'5". 241.
Just a hard-working blocking tight end right here