Well, this particular mock probably wouldn't happen in real life, but it could realistically happen if this organization had any imagination. Hopefully we will have a GM who thinks with his head. With all that said, most of you won't like this mock. I'm doing the unthinkable with it, and that is I'm trading Cam Newton.
No doubt Cam has all the tools to become the best QB in the league, but all this negative attention is starting to get on my nerves. Now that this sorry coaching staff has held him back, and thrown him to the wolves of the media, I wonder if he will recover mentally from all this. Plus, many still see Cam as a scrambling QB. I've watched enough of him running for these past two seasons so far to say Cam is a pocket passer with speed in his legs. Not a scrambling QB. So I wonder if we are going to get a coaching staff that will just work on Cam's ability as a passer, or will they continue to harbor his running ability? Is Cam putting the study in to become a renown passer? (There was a statement last year where Cam said he'd rather trust his own legs, than stand in the pocket. Of course that is not a direct quote, but he said something to that nature last year. I'll see if I can find those remarks)
So with all that baggage, with all the crud going on in Carolina, I'm starting to think it might be better to trade Newton now and get the most out of it. While opinion on Newton is still high when it comes to his skills. So here are my trades.......
Trades

:
1st trade-
Panthers get: 2013 1st, 2013 2nd, 2014 1st, 2014 3rd, 2015 3rd
Cardinals get: Cam Newton
Description: I believe the Cards are right there in terms of having a great team. They already have receiving threats in Fitzgerald and the up in coming wideout Michael Floyd. I'm sure they would be more than willing to go after Cam if he is available. Cam has been compared to Big Ben, and we know Ken Whisenhuntt comes from that Steeler background. This will be a great place for Cam, and I want to do right by him. (Plus I heard Jordin Sparks is an avid Cardinal fan, so perhaps Cam would have a chance in getting her number eh!)
For us, this gives us a boat load of picks to get good players here. I've heard on "The Fan" radio network, that JR was willing to pay to get a good GM here. A boat load of picks with a good GM, equals championships.
2nd trade-
Panthers get: 2013 6th
Colts get: DeAngelo Williams
Description: The Colts went out and traded for Vontae Davis before the year began. I think they will be willing to do the same in the off-season next year. (Or possible before the trade deadline this year) The Colts don't have a running back to truly rely on, so I'm giving them our boy D-Will. He should instantly give credibility to the Colts running game, opening things up to see what Luck can really do. We in return get a late draft pick, and hopefully the Colts eat up some of D-Will's contract. (They should have the cap space to do so)
Final trade-
Panthers get: 2013 3rd
Patriots get: Chris Gamble
Description: I think it's time for Gamble to move on. He's a great corner, up there in the top ten. Yet we know if he's not into what the team is doing, his play drifts off. I don't know how he would handle a new coach coming in, with a new defense to learn. I feel Bellichick could get the most out of a guy like Gamble.
On to the draft......
1st round pick (3rd overall)
Star Lotulelei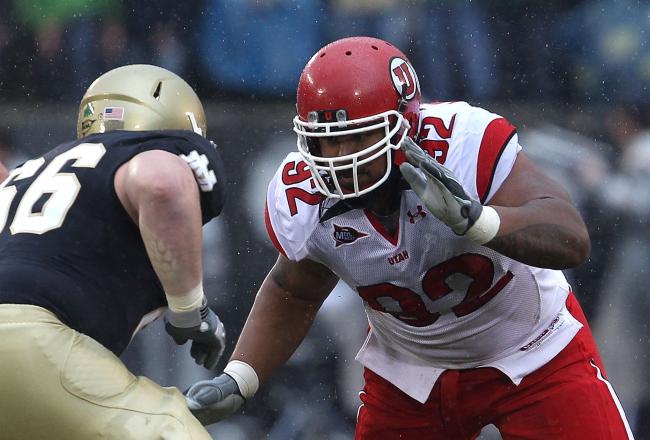 A big guy that kind create a good push up the middle of o-lines. Plus he can eat guards for lunch, allowing our high flying linebackers to get to the backs, or blitz for the QBs. Finally, we address the DT since the days of one, Kris Jenkins.
1st round pick (10-20 overall)
DeMarcus Milliner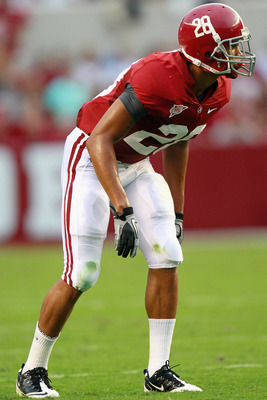 Here's a top corner who plays in the best conference in college football. Walterfootball pegs him as the best man-to-man corner in this class, and I'm sure he has gotten a lot of work while Kirkpatrick was on this team. I'll continue to monitor his success as the college football season goes on.
2nd round pick
Robert Lester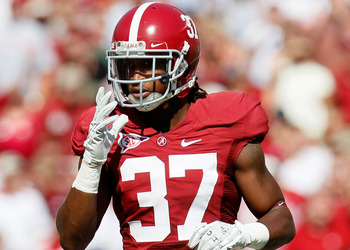 He's not the best tackler, but he has prime ball hawking skills. It's time we got a guy at safety, that can actually cover guys down the field. I like McDonald out of USC, but let's be real, he is more known for his big hits than his coverage skills. Lester has shown he can cover and catch the ball from time to time. Give me this guy.
2nd round pick
Cobi Hamilton
Cobi is an underated receiver who can play ball. Had it not been for injuries at QB and the firing of the HC at Arkansas (an appropiate firing), he would probably be a first round pick. So his play dipped down a little this year, but if you look at his whole career, his skills translate well to a big time NFL receiver. He also ran track, so he has wheels. If Smitty doesn't retire, and Gettis shows he has stuff, we will have four good receivers on this team.
3rd round pick
Landry "Lance" Jones
I didn't like the system he ran at Oklahoma, which featured a lot of screen and short passes, but he's an interesting prospect. He shows good potential in pocket movement (the best QBs know how to move within the pocket), and he has a quick release. I'm not saying he will be our future at QB, but he's a start in that search. He wouldn't start right away by any means. I would resign Derek Anderson, and he will be my starter for next year. If Anderson plays well, Landry will sit under him for the first few years.
4th round pick
Xavier Nixon
Gross is getting older by the year, and eventually will be moved over to RT as his career comes to an end. At some point we will need to get a prime LT. Xavier has shown flashes, even shut down Sam Montgomery at one point this year. So Xavier would be a good start in our pursuit of an heir apparent to Gross.
5th round
Spencer Long
With Cam gone, I'm going to continue to beef up the O-line to maximize pocket protection and opening running lanes. Long has a great work ethic, and has gotten better every year since he's been a starter.
6th round pick
DeVonte Holloman
I see him as a special team tackling genius. I really want him to become the "Hitman" on special teams. With Beason most likely starting, having Thomas Davis and Holloman on special teams will be deadly. Never again will we be afraid of Devin Hester and the like!
7th round pick
Braden Wilson
Mike Toblert is no fullback, or at least not a good one. I haven't seen him throw a decent block all year, and that is the other reason why our running game has suffered tremendously. (The main reason was "Rivera's Wacky Option Offense") So let's go old school, and put a bruiser of a blocking fullback into the offense. Tolbert will be our number two running back. Since Tolbert is not a true running back, this means J-Stew will be our full time, featured running back, with Tolbert giving him a breather here and there. With a re-vamped line, and Juggernaut at fullback, Stew may breakout with 2,000 yards rushing.
Free Agent pick ups:
Sean Smith
Leonard Pope
OJ Atogwe
Kevin Williams
Roster Projection:
QB- Derek Anderson, Landry Jones ®, ?
RB- Jonathan Stewart, Mike Tolbert
FB- Braden Wilson ®
WR- Steve Smith, Cobi Hamilton, Joe Adams?
RT- Byron Bell, Back up
RG- Spencer Long ®, Jeff Byers
C- Ryan Kalil, Geoff Hangartner
LG- Amini Silatolu, Back up
LT- Jordan Gross, Xavier Nixon
WR- David Gettis, Brandon LaFell
TE- Greg Olsen, Leonard Pope
RE- Frank Alexander, Greg Hardy?
DT- Star Lotulelei ®, Kevin Williams
DT- Dwan Edwards, Back up
LE- Charles Johnson, Back up
OLB- James Anderson, DeVonte Holloman ®
MLB- Luke Keuchly, Back up
OLB- Jon Beason, Thomas Davis
CB- DeMarcus "Dee" Milliner ®, Back up
FS- Robert Lester ®, Back up
SS- Charles Godfrey, OJ Atogwe
CB- Sean Smith, Josh Norman
K- Justin Medlock
P- Brad Nortman?
PR- Joe Adams?
KR- ?