This mock is based on our final record being 3-13, and having the first overall pick in the 2013 draft. The set up will be free agency period, the draft, and finally the roster projection. Enjoy!
Free Agency Period

:
A. Free Agent Signings- (I'm going to list my top free agents)
Jairus Byrd:
Position- Free Safety
Ht- 5'10"
Wt- 203
Sean Smith:
Position- Cornerback
Ht- 6'3"
Wt- 214
Randy Starks:
Position- Defensive Tackle
Ht- 6'3"
Wt- 305
B. Trades and other moves-
Trade first overall pick for- 1st (3rd overall), 2nd, 3rd, and 1st 2014
Trade our 2nd for a later 2nd and 3rd
Trade Jordan Gross for a 3rd rounder
Trade Chris Gamble for a 4th rounder
Release DeAngelo Williams
Release Charles Godfrey
Release Haruki Nakamura
Release Ron Edwards
NFL Draft

:
1st Round (3rd overall)
Luke Joeckel
Of course, not too long ago I realized he is a junior. If he wanted to, he could go back to college, and try to win a national championship with Johnny Football. I wouldn't be surprised if he eletced to stay in college, in that case our pick would then be Star Lotulelei, and we would draft a T prospect with one of our second rounders. With all that said, we all know Joeckel's resume, he is the best T prospect out of this class. Excellent replacement for Gross.
2nd Round (35th overall trade)
TJ McDonald
The big physical safety we've been missing. (Have this franchise ever had a big safety?) USC has a recent history of putting out good defensive players, and TJ looks to be another guy in that list. Hopefully he will help lock down the safety spot for us.
2nd Round (trade)
Alvin Bailey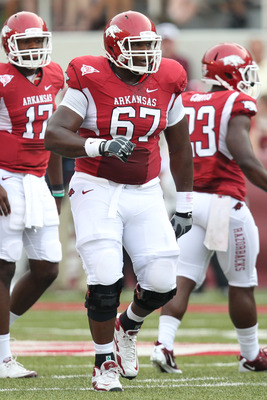 A big road grader. Excellent guy to have on the right side, solidifying our line for years to come. He also came from a passing offense at Arkansas, so he can hold his own. With a little bit of experience, I think he could eye down Suh!
3rd Round (trade)
Joseph Fauria
Great athletic skill, and can block. Has starting potential, but would be a great tag team partner to Greg Olsen here in the Carolinas.
3rd Round (trade)
Cobi Hamilton
A big, fast receiver is just what the doctor ordered for Cam. I thought Gettis would show his stuff this year, but between injury and coaching pride, he won't be able to show anything for the new coach to conisder him next year. (Of course perhaps Gettis will stay long enough to show his stuff for the new coach during preseason. I'll entertain that possibility) With all that said, Hamilton could be a Julio Jones in training.
4th Round
Devin Taylor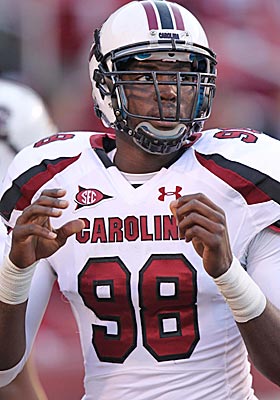 This would complete a serious monster rotation at the DE spot for us. Devin Taylor has NFL calibur talent, we are talking being able to start for most teams within 2 years or less. Teams will be wetting their beds at night at the thought of playing CJ, Hardy, Alexander, and Taylor come gametime.
4th Round (trade)
DJ Swearinger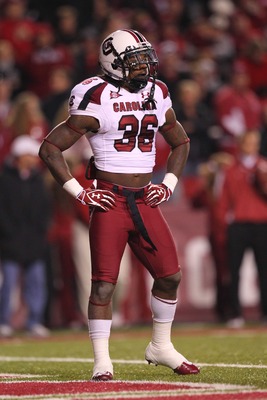 I know many of you SC fans think Swearinger will be gone before the 4th round, but I don't think so. If guys like Lester and Reid will fall into the third round, they being more well known, Swearinger will probably fall as a result. He hasn't put up spectacular numbers, but the thing I like about him is his solid play. He would be a great guy to have for special team coverage, and could push for a starting position. After this draft, our safety spot will be stacked with talent.
5th Round
Darius Slay
A decent corner prospect. With a first rounder on the other side of him, I'm sure he's seen a lot of passes gone his way.
6th Round
Trey Millard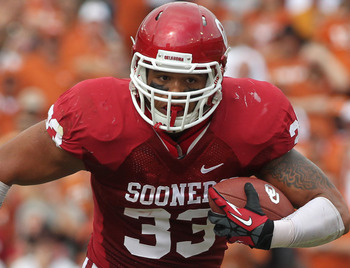 A bruiser of a fullback. It's time we get back to running the ball with a punch, and Millard will help pave the way for Stew and Tolbert.
Roster Projection

:
Offense
QB: Cam Newton, Back up
RB: Jonathan Stewart, Mike Tolbert
FB: Trey Millard ®
TE: Greg Olsen, Joseph Fauria ®
WR: Steve Smith, David Gettis, Joe Adams
WR: Brandon LaFell, Cobi Hamilton ®
LT: Luke Joeckel ®, Back up
LG: Amini Silatolu, Back up
C: Ryan Kalil, Back up
RG: Alvin Bailey ®, Back up
RT: Byron Bell, Back up
Defense
RE: Greg Hardy, Frank Alexander
DT: Randy Starks (FA), Back up
DT: Dwan Edwards, Back up
LE: Charles Johnson, Devin Taylor ®
OLB: Thomas Davis, James Anderson
MLB: Luke Kuechly, Back up
OLB: Jon Beason, Back up
CB: Josh Norman, Darius Slay ®
FS: Jarius Byrd (FA), Sherrod Martin
SS: TJ McDonald ®, DJ Swearinger ®
CB: Sean Smith (FA), Capt. Munnerlyn
Special Teams
KR: Joe Adams
PR: Joe Adams
K: ?
P: ?
So there you have it. My scenario should we end up with the number one pick. Some believe no one will trade up to pick a QB this year. In free agency, the best QB available will be our own Derek Anderson. So I'm led to believe someone will trade up and take a chance on either Barkley or Smith. (Smith may be the front runner here) With all the success RG3 is having, and Smith was having a better year than RG3 had his final year at Baylor until they started losing, I definitely think a team will jump up to the number one pick. (I'm looking at the Chiefs and Cardinals)