In my final my mock I have the team making a deal to move back in the first round and pick up a third round pick. I'd say a team a couple picks behind us will try to move up and jump some teams for their guy. This benefits us because we only have 5 picks this draft.
Round 1:
Keenan Allen, WR, California
The Panthers have made it obvious they are looking to draft a WR in this draft. It's also clear Keenan Allen has a few connections to the organization. And, in my opinion, it's not far-fetched to label Allen has the best WR in this year's draft. He doesn't have the hype that you'd get with Tavon Austin or Cordarrelle Patterson but he does have the skill. Allen is a big, physical receiver who is known for precise route running and great catching ability. The Panthers desperately need to find a current #2 WR that will replace Smith as our top guy down the road. Keenan Allen would be the ideal player for this team. He is as safe of a pick as Luke was last season.
Round 2:

Matt Elam, S, Florida
There has been a lack of fear from our opponents' offenses in recent years. Bringing in a guy like Elam would change that. Known as an explosiveness hitter who has a knack for breaking up plays, Matt Elam is exactly what this defense needs. Let's put some fear in these WRs and make them second guess about hitting that route across the middle.
Round 3:

Darius Slay, CB, Mississippi State
I'll admit, it's a bit of a stretch to say Slay will still be on the board in the middle of the third round. However, with the high number of solid CBs in this draft there is a small chance he slips down to us in our newly acquired third round pick. Darius Slay stole the show at the NFL combine and reminded people that Jonathan Banks wasn't the only CB torturing opponents at Mississippi State. At 6', Slay is a nice sized CB with blazing speed who is also known for his versatility in coverage and ability to stop the run.
Round 4:
Xavier Nixon, OT, Florida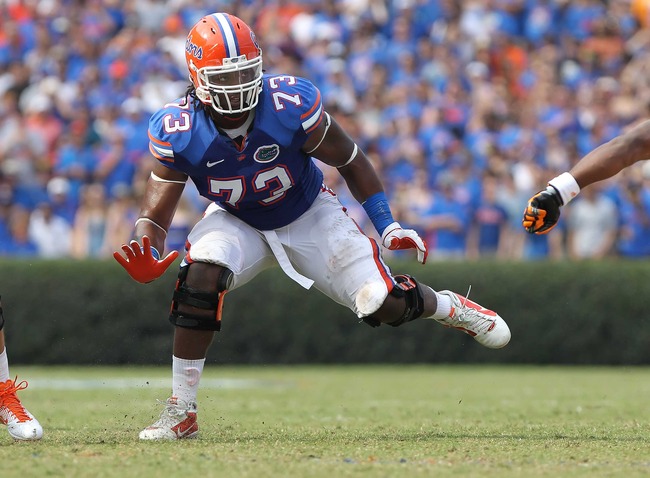 Xavier Nixon is one of the most skilled offensive lineman in this draft, however he lacks consistency. Despite this negative characteristic, Nixon comes with tons experience against top defensive lineman in the country. The Panthers should not expect him to walk in as a starter day 1, though the ceiling is extremely high for Nixon. Sitting behind Gross for a season would do him wonders.
I won't bother to do the rest of the draft because
there's no telling who will be available.