Went to the NC Mountains last week and had a blast... Philly b inspired me to photo document it...
Most of these were taken by my son on his nice camera, but some were me with my phone...
Monday we went Zip Lining at Hawk's Nest...
What a blast! My wife cried on the first line and was gung ho after that... and we had to make Granny do every line, she wanted to until we got up there... lol
Went to Grandfather Mnt Tuesday, hiked the Grandfather trail...
and goofed around the mountain.
I can't believe that they let people climb up McRae's Peak like that... seems awfully dangerous, but fun...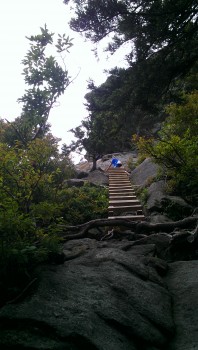 Wednesday we went horseback riding... and despite the mud and my oldest son's horse slipping and falling on him, we had a blast...
Even Granny had fun...
Thursday we drove down the parkway about 30 miles in the fog and did the hike down to Crabtree Falls. What a beautiful hike and excellent waterfall.
Friday we left and went down Hwy 321 and hit all the antique stores down to I-40 to let my wife get her shop on. This was also after we hit the various Mast General stores, bought $35 worth of candy and hit all the other stores in Blowing Rock and downtown Boone during the week.
Eating:
Man they've got some awesome food up that way. We had an excellent lunch on Tuesday at the Boone Bagelry, a fantastic lunch on Wednesday at 1861 Farm House in Valle Crucis, and another great lunch at the Switzerland Cafe in Little Switzerland on Thursday. Mountain people know how to cook.
As a flatlander all my life, I think I want to move up there. We stayed on Sugar Mnt and the highest the temp got was 75 during the day. No A/C and left the windows open the entire time. Not sure how I would like the winter up there... but I'm willing to give it a try.
If anybody lives in the Banner Elk/Sugar Mnt/Seven Devils area and wants to talk about a summer time house swap, get up with me... we live about 10 minutes from the beaches in Wilmington/Carolina Beach on the coast.
The only negative now is that in all the hiking, my oldest got the poison ivy... so now he's suffering with that...