I never really looked at Cam's technique while he was in college. I saw a few of his games, but of course during that time, I wasn't looking at him as a draft prospect for the Panthers. (I believe in terms of QB, most of us were looking at Andrew Luck. I was also thinking during that time of trading Luck for a bunch of draft picks, and then picking up Ryan Mallett. Me and my crazy ideas) So when it came to Cam's technique in throwing the ball, I didn't really get a good look until his preseason debut. (I made it a point to examine Cam's motion, after being subjected to Clausen's side arm delivery. Although concerning Clausen, I think he changed his motion up somewhat over the years. Of course it didn't help much)
When I finally got a good look at it, I told my nephew they should make a silhouette of it and use it as the new NFL logo. (Similar to how the NBA did with Jerry West) Anyway, I was watching the next big thing in Teddy Bridgewater this past sunday. During the game, the commentators began talking on Johnny Unitas, I guess talking about Louisville honoring him in some way if I remember correctly. Yet they showed a drawing of him in the Louisville uniform, in his throwing motion. I looked and said it was similar to Cam's, or Cam's motion was similar to Johnny U. Now I know when you look at throwing motions, they all look just about the same. (Every now and again you have some unique motions like Byron Leftwich's) Yet when you look at Johnny's motion, he cocks the ball back slightly above his head. Cam does the same thing in his motion.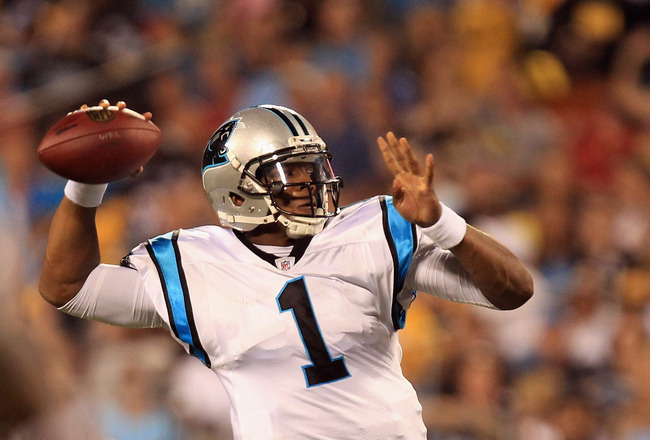 I believe guys like Peyton and Brady have a more circular motion with their throwing arm when they pass. However as we can see with Johnny U and Cam, they cock their arms back and launch the ball in a slingshot type motion. If I was a reporter, I would ask Cam concerning where did he learn to throw in this motion. I know he did an interview a couple of years ago, saying his dad tried to teach him how to throw, but he really didn't know the correct technique and so forth.
I'm assuming Cam taught himself. Yet perhaps he might have patterned his motion after Johnny?
I guess ultimately, the next time someone says Cam reminds them of a bigger version of Michael Vick, or a rich man's Vince Young, (The whole compare the white QBs with the white QBs, and black QBs with the black QBs) you can say Cam reminds you of ol' Johnny U!