12.30 – Signature Stat Snapshot – Pass Rushing Productivity
Another one of our signature stats and this time we're looking at which 4-3 defensive ends are getting the most pressure per snap? So with the seven games up who is tearing to the top?
1. Charles Johnson, CAR: 13.7
2. Everson Griffen, MIN: 13.6
3. Greg Hardy, CAR: 13.5
4. Mario Addison, CAR: 11.8
5. Justin Tuck, NYG: 11.7
Holy poo! Dat Dline!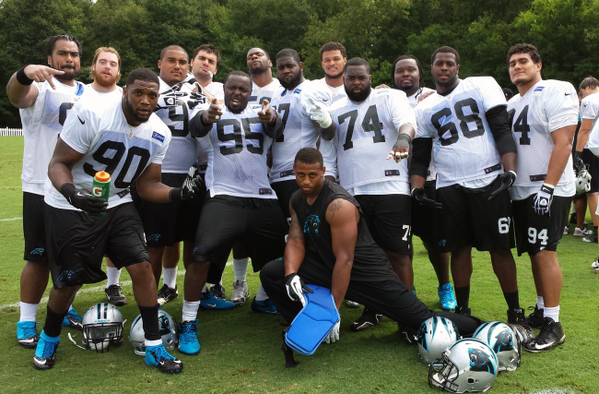 Some other little notes from PFF.
11.00 – Signature Stat Snapshot: Adjusted Accuracy Percentage
The second one of the day. This time we're taking into account the drops, throw aways, spikes and more to look at who really are the most accurate quarterbacks in the league. Who are the best from the seven games we've graded so far? Let's see.
1. Aaron Rodgers, GB: 96.2%
2. Matthew Stafford, DAL: 81.8%
3. Cam Newton, CAR: 81.3%
4. Colin Kaepernick, SF: 80%
5. Geno Smith, NYJ: 77.8%
07.00 – Panthers at Buccaneers Game Notes
- The three highest graded players were Jordan Gross (+5.2), Jeremy Zuttah (+2.9) andCam Newton (+2.8)
- The three lowest graded players were Daniel Te'o-Nesheim (-5.4), Mason Foster (-5.3) and Ted Larsen (-3.0)
- Another extremely efficient performance from Newton. He had an adjusted accuracy percentage score of 78.1%.
- Teams not afraid to mix up their defensive fronts. The Panthers had an 8-to-4 split in base of 4-3 to 3-4 looks, while the Buccaneers were at 17-to-13.
- In the battle between Steve Smith and Darrelle Revis, Revis was thrown at twice with both passes resulting in pass deflections (though with one of them he was lucky with a pass deflection)
https://www.profootb...-blog-week-8-2/