Tomorrow the Panthers will play in what is probably their biggest game since the 2008 playoff loss to the Cardinals. It's really a perfect combination of easily accessible and relatable story lines, win-loss significance and old history and callbacks to the 1996 season. Some of the older posters may remember Rosinski screaming "The King is Dead!"
It also has the possibility of being a gut crushing loss, sending us hurtling down the totem pole of public opinion. We'll simply become a team that beat up on a lot of poo. Rivera's renaissance was celebrated prematurely. Cam could have a second bad game in a row and is a team cancer and likely hates white people.
Regardless, the huddle will certainly crash on Sunday.
I've been wanting to make this thread for a while, just to keep things into perspective. I've seen every single Panthers game in their history. Been to almost half of them personally. I've watched a lot of bad football over the years. I've had my heart ripped out and stomped on more times than I care to remember. There hasn't been a lot of success for this team. So why not embrace it? No one ever accuses you of being a bandwagon Panthers fan, for example.
Firstly, some parameters. I admit this is subjective, and at times it might be contradictory. I feel very strongly about these five games and I'll try to defend my thesis. Their order isn't necessarily set in stone, with the exception of the most disappointing game and I will defend that to the grave. To give you an idea....
-Playoff losses aren't automatically at the top. If so, it'd just be Superbowl - Arizona - Seattle - Green Bay, with maybe switching the middle two depending on how you feel.
-There has to be a lot of buildup and poo on the line. Obviously playoffs are win or go home, and I hope you'll understand what I mean once I get through this.
-I need some story lines. Again, we'll get there. I don't want to spoil it.
-Pivotal moments are pivotal moments.
-If we didn't really have a chance in retrospect, I don't consider it disappointing. A lot of times we have blue shaded glasses as Panthers fans, and don't really consider what we're walking in to. If we, as a fan base, can look back and say "yeah we really didn't have a shot there," I don't think you can rank it as the most disappointing. Remember Bane's words....
There's a reason why this prison is the worst hell on earth... Hope.
First, let me say what game isn't on this list. Or anywhere close to it for that matter.
1996 NFC Championship Game
It's not hard to set this stage. The Panthers had a suffocating defense that didn't allow a second half touchdown all season. They didn't lose a game at home in the first year of Ericsson stadium. The team had all pros and future hall of famers on defense, and a young nucleus of offensive players that would surely never hurl racial slurs at their team mates. Of course we'd just waltz into the playoffs in our second year, curb stomp the cowboys, and then go up to what was still at the time the hardest place in the NFL to win a game in winter. And we even got up 7 points on them!
Oh...we were such sweet, sweet summer children. The Packers routed us. The score doesn't indicate how badly they physically abused Carolina that day. They ran all over the Panthers and Reggie White was completely unstoppable. They could have scored fifty had they wanted to. That Green Bay team was a juggernaut, and went on to poo house the Patriots. They were good. Way better than Carolina.
this entire game is on youtube somewhere but I can't find it.
I was only 10 at the time but I remember listening to wfnz. I remember hearing my dads' friends talk about the game. Hell, I vividly remember Howie Long on fox after the game. "Don't worry, this team will be back. They're set up for success." No one was that beat up about this. The Panthers were more just a fun little thing. Being good was the way they were going to be. We weren't fully emotionally invested yet as a fan base. Remember Bane.
Now you're going to say that after this game the Panthers didn't have a winning record for 7 seasons, and that the collapse was absolutely hideous, but it didn't really tie directly to this game. That had more to do with personal failings of our players, incompetence by the front office, and Kevin Greene pursuing a professional wrestling career. That 1996 was just gold dust. We didn't know what disappointment was.
There's an example of what I don't consider disappointing and my explanation of why. Thankfully most of the posters on the Huddle weren't even born for this game so there won't be much arguing.
Number 5: 2009 Eagles at Panthers - Time for Jake to right the shi- OH fug poo
While the Delhomme era effectively ended in the Arizona game, it was clear as hell during this game.
The Panthers had a shitty offseason. Quite a few contracts came to a head and Hurney backed carolina into cap hell. Gamble was extended during the 08 season, Gross was resigned afterwards, and Peppers was franchised in the 11th hour. Most damning, in an attempt to create cap space, Hurney ignored most of the scouting department and doubled down on Delhomme. That contract is probably Hurney's most mind numbing moment. He took a situation where he should have stared Jake down and demanded a restructure and hitched the ship to him instead. But I digress.
On top of that, the Panthers were without a first round pick from the Jeff Otah trade, and out of desperation rolled the dice on a worthless sack of poo. There wasn't a lot of young, cheap talent from this draft.
There were non stop questions about Jake Delhomme heading into that season. Jake always had games where he couldn't hit the broadside of the barn. Hell, he had two of them in the 2008 seasons. Luckily they were against the Raiders and the Lions, and we won those games when we got on the team bus. He'd performed decently the week before Arizona in New York, and he wouldn't have forgotten to play football in 14 days.
The starting offense didn't score a touchdown in the preseason. This is one of those things in retrospect we should have realized was a disaster waiting to happen, but on this site at the time people were handwaving that off. We shouldn't have.
all the signs were there. when the wheels came off, they came off quickly.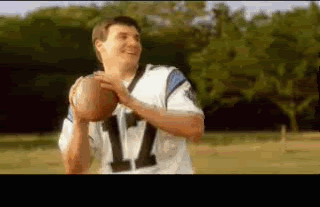 Delhomme threw five interceptions. His balls lacked zip and timing. He was officially done. The defense looked slow, old, and untalented. They got beat all over the field. Hurney came on the radio after the game and flat out said, "This is the worst case scenario." I don't know if anyone else remembers that but it made me feel sick.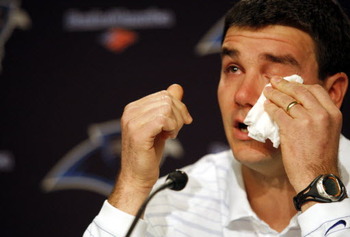 The season wasn't hideous. It was pretty entertaining all things considered. Jake even came back and had a decent game against Atlanta. Who knows what would have happened if they'd won that games. We got to see Vinny Testaverde throw a touchdown pass. We all got really excited for Matt Moore.
I was seventeen when the 2003 season started. Suffice to say the Jake Delhomme era was during a fairly important time of my life. I made a lot more personal connections to those games than I did during the Seifert era, for example. When I think of the games, I remember my friends I watched it with, the girl I was with, getting drunk and running from cops, etc.
I remember watching Jake get pulled from that game and saying aloud "this might be the last time we ever see Jake." exactly five years after coming onto the field in the second half against the Jaguars, calling a play no one understood because of his accent, starting a ridiculous run to the Super Bowl, and becoming the best QB in franchise history, Jake Delhomme was boo'd off the field.
Fox and Hurney weren't gone, of course. Delhomme would fuging beat the Panthers the following year. This is recent history so I won't go over it. But the run ended for sure in week 1 of the 2009 season. I knew it at the time, and I know for a fact a lot of people here felt the same way.
4 more games to go.
Hint for Number 4: Okay, who's actually healthy for this game?