1# Overall pick: Marcell Dareus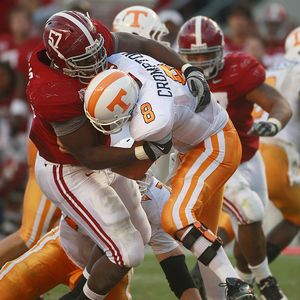 It's been a while since we had a dominant presence at DT. Marcell is like a more athletic version of Kris Jenkins, and his work ethic is 100 times higher. Putting him in the middle would automatically put us in conversation of having one of the more dominating run defenses in the league.
65# pick: Jarvis Jenkins
Jarvis has the potential to be a great run stuffing machine. He's another guy I feel that could come in and start for us. It may be a risk to have two rookie defensive tackles on the field, but I'm more than willing to see what both him and Dareus can do.
97# pick: Johnny Patrick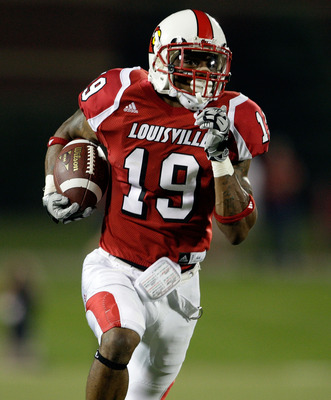 Ever since we gave Richard Marshall the starter position, our nickel position lost that threat of the pass rush. Capt. Munnerlyn has been decent, but Marshall was able to bring an extra threat to get after the QB on a blitz scheme. Johnny Patrick has shown he is well able to bring that threat, and do well in coverage. He's a sure tackler as well. Once free agency start, Marshall will be gone. Now, I still have a glimmer of hope that Carolina could woo Asomugha here, and if that is the case, Johnny Patrick will be our nickel specialist.
98# pick: Jah Reid
Jeff Otah shows he's not consistent in staying on the field. In fact, he missed the whole season last year. So to sure up this position in case he is injured again, Jah Reid seems to be the best pick here. He's great at pass blocking, and his run blocking is also good. A quick, run mauling tackle is great for the kind of backs we have here in Carolina, and effective pass blocking will help our QB.
http://www.nfl.com/v...9000d5d81ec9d2f
132# pick: Mark Herzlich
Thomas Davis is another player who hasn't seen the field all last season. Due to his injuries, this is a make or break year for him. In order to give him a little competition, I believe Mark has great potential of being great OLB for us. He shown in college he can effectively defend against the pass as he had 6 interceptions back in 2008, two of which he returned for touchdowns. That is amazing for a linebacker, and in 2010 he had 4 ints, showing he is consistent. Plus with being Matt Ryan's old teammate, this would be an automatic rivalry between the already heated rivarly of the Panthers and Falcons.
166# pick: Schuylar Oordt
This guy already has Panthers written on his jersey, and with the 166th pick, we should make him a Panther again. He's fast, he's tall, and he has great athletic ability. Now, we have some pretty worthy TEs on this roster already, but it doesn't hurt to have one more fighting for a spot in training camp, and it never hurts to have a guy like Schuylar Oordt. If he makes the team, we should have a special set of plays just for him, and call these plays "Oordt cloud formations" (For those who don't know, the oort cloud is apart of astronomy, I personally don't believe such a thing exist by the way.)
http://multimedia.fo....htm?r_src=ramp
203# pick: Tori Gurley
Now, as a casual fan of the Gamecocks, I was suprised and sad to see Gurley enter the draft. Yet he probably got tired of sorry QB play there, which is holding that team back. Anyway, he will be a good hands receiver, someone to get the chains moving or even get you a goal line touchdown. He is also fast for his size, and can give you a real motivation booster in catching passes thrown deep. He would give Gettis a run for his money in being the number two receiver.
244# pick: TJ Yates
http://sportspredict...On-TJ-Yates.jpg
We really need to swap picks with Houston, and make Yates Mr. Irrelevant. (It's about time Carolina had this pick) Anyway, I don't expect Carolina to officially get their franchise guy this year, and I fully expect Matt Moore to have a pretty decent year this upcoming season. With that said, Yates comes from a professional system of play, and if all our QBs get hurt again, if we must play a rookie, Yates will be ready to come in and play. I expect our strengths next year to be having an exceedingly strong defense, lifting heavy expectations off of our QBs. (All they have to do is not turn the ball over) Besides, if Yates showed anything, it would be a plus. I really want to swap picks with Houston and make TJ Yates Mr. Irrelevant!
(The best Yates highligt reel I could find. Just imagine Yates throwing to Smitty in this reel)
Re-signings (Most important):
DeAngelo Williams (4 year deal)
Charles Johnson (5 year deal)
Thomas Davis (1 year deal)
Matt Moore (1-2 year deal)
Free agent (Most important):
Nnamdi Asomugha (7 year deal)
Marc Bulger (1 year deal)
Roster projection for the 2011-12 season:
QB: Matt Moore, Marc Bulger, Jimmy Clausen, TJ Yates (possibly)
RB: DeAngelo Williams, Jonathan Stewart, Mike Goodson
FB: Tony Fiammetta, Tyrell Sutton
TE: Jeremy Shockey, Dante Rosario, Schuylar Oordt
WR: Steve Smith, Brandon Lafell, Armanti Edwards
WR: David Gettis, Tori Gurley, Gary Barnidge (possibly)
T: Jordan Gross, Back-up
G: Travelle Wharton, Back-up
C: Ryan Kalil, Back-up
G: Geoff Schwartz, Back-up
T: Jeff Otah, Jah Reid
DE: Greg Hardy, Tyler Brayton
DT: Marcell Dareus, Derek Landri
DT: Jarvis Jenkins, Nick Hayden or unknown FA
DE: Charles Johnson, Everett Brown
OLB: James Anderson, Jason Williams
MLB: Jon Beason, Dan Connor
OLB: Thomas Davis, Mark Herzlich
CB: Nnamdi Asomugha, Capt. Munnerlyn
FS: Charles Godfrey, Jordan Pugh
SS: Sherrod Martin, Back-up
CB: Chris Gamble, Johnny Patrick, Back-up
3-4 defensive look
DE: Tyler Brayton
DT: Jarvis Jenkins
DE: Marcell Dareus
OLB: Greg Hardy
ILB: Mark Herzlich
ILB: Jon Beason
OLB: Thomas Davis
CB: Nnamdi Asomugha, Capt. Munnerlyn
FS: Charles Godfrey
SS: Sherrod Martin
CB: Chris Gamble, Johnny Patrick
K: John Kasay
P: Jason Baker
KR: Mike Goodson
PR: Capt. Munnerlyn
Edited by Matthias, 24 April 2011 - 08:02 PM.