Alright, here's my last mock draft. It will also include my prediction for next year's first round pick. Enjoy!
1
st
Round
Morris Claiborne
College: LSU
Position: Corner
Height: 5'11"
Weight: 188
The best corner prospect may indeed fall right into our hands at the 9
th
overall pick. Claiborne has the skills to come in and start right from camp, which is probably not too difficult a task here in Carolina. (No offense Munnerlyn aka the Capt.) Morris improved on his game this past collegiate season, and he looks to further improve as he steps into the big leagues.
2
nd
Round
Harrison Smith
College: Notre Dame
Position: Safety
Height: 6'2"
Weight: 213
I wasn't too high on Harrison at first, but through the following weeks, he began to grow on me. I've been looking at his stats, highlights, and combine to come to the conclusion he will be a great pro safety. He has the strength to mess RBs up at the line of scrimmage, yet has the overall speed to cover down the field. He is overall, a true safety. I would plug him in as our SS, and move Godfrey back to FS. (Godfrey is not really a great run support type safety) Hehe, I guess some would say he could be our version of John Lynch, but I don't want to make such a statement. It's really lazy on the eyes because we wouldn't make that statement if Harrison was black. So what famous black safety could we liken him to? Is Ronnie Lott too extreme?
4
th
Round
Jared Crick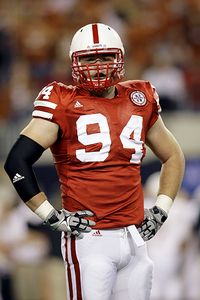 College: Nebraska
Position: Defensive Tackle
Height: 6'4"
Weight: 279
We need a DT that can rush the passer consistently, or at least can rush the passer at all. We haven't had this since Kris Jenkins best years here in Carolina. Crick has shown he can do this against some of the better college teams in the nation. In 2011, he suffered an injury that sidelined him for most of the year; as a result it caused him to fall in draft stock. (That, and people are seeing his 2010 season as a one year wonder) We can use all the help we can get on the d-line, and I expect Carolina to have one of the best within two years time.
5
th
Round
Stephen Good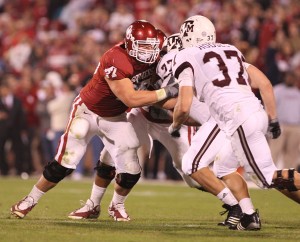 College: Oklahoma
Position: Guard
Height: 6'5"
Weight: 310
Here's a prospect that spent his career keeping Landry Jones on his feet. With Wharton now gone, a new guard will need to step up and feel the shoes on the left side of the line. From Walterfootball, Good was a pretty decent pass protector who played on both the right and left side. Here's a report showing that he had a good pro day workout.
http://profootball.s...d=5543850&fhn=1
6
th
Round
Brian Quick
College: Appalachian State
Position: Wide Receiver
Height: 6'4"
Weight: 220
I feel pretty good about our receivers coming into this year, yet it doesn't hurt to add more talent here at this point in the draft. His name says it all, he's not extremely fast for a wideout, yet he is very quick for a guy his size. I love seeing native players on their hometown team, and I believe he could even fight his way to being the new number one receiver once Steve Smith starts to decline, or should I say if he declines.
6
th
Round (Compensation pick)
Korey Williams
College: Southern Miss
Position: Inside Linebacker
Height: 6'2"
Weight: 241
Korey is an interesting prospect. He is clearly a play-making machine, and yet, I can't find one highlight video on his play. He suffered an ACL injury last year, which of course sidelined him for most of the year. Yet in the four games that he played, he notched three interceptions (one returned for a touchdown). So for a guy his size, he can really move. Southern Miss' pro day in March 24
th
, so his draft stock could increase. I'm going out on a limb and say, Korey could be the draft's best kept secret in terms of the middle linebacker position.
7
th
Round
Vontaze Burfict
College: Arizona State
Position: Inside Linbacker
Height: 6'1"
Weight: 248
I know, I know, why would we want this guy on the team? The thing is, if he is still available in the seventh, I wouldn't be against bringing him in. Look at the limited success he had at Arizona State. If he could be that good while dealing with all his issues, imagine what he could do if he got his head on straight. Also, I know his position says middle linebacker, yet I've seen his highlights where he's roaming around the line of scrimmage. He has that rare defensive instinct of sensing when the ball is about to be snapped, putting o-lineman on their heels. If he dropped some of that weight and gain a little speed, he would make the perfect OLB. To work on his speed, we would put him on special teams, make him run the length of the field and work some of that weight off. Then put him in the weight room to get him stronger. Finally, we put him on the Beason schedule. Whatever Beason does, he does. Whatever Jon eats, he eats.
So if he's available at this point in the draft, which could also humble him having to wait this long to be drafted and at the same time being grateful for hearing his name called out to be drafted into the league, we should go out on a limb and select him. Low risk, very high reward.
So there you have it, my final mock draft for this year. Here's my roster projection, including a free agent hopeful in the return game.
®- Rookie
(FA)- Free Agent
(UFA)- Undrafted Free Agent
Vs- Battle for starting position
Offense:
QB- Cam Newton, Derek Anderson
RB- DeAngelo Williams, Jonathan Stewart
FB- Ritchie Brockel
WR- Steve Smith, Brandon LaFell, Ted Ginn Jr. (FA)
WR- David Gettis, Brian Quick ®, Kealoha Pilares
TE- Greg Olsen, Gary Barnidge, Jeff Fuller (UFA)?
LT- Jordan Gross, Garry Williams
LG- Jason Brown (FA)? vs Stephen Good ®
C- Ryan Kalil, Geoff Hangartner
RG- Byron Bell vs Geoff Hangartner, Bryant Browning
RT- Jeff Otah, Lee Ziemba
Defense:
DE- Greg Hardy, Frank Alexander (UFA)
DT- Jared Crick ® vs Terrell McClain, Jason Shirley
DT- Ron Edwards, Frank Kearse
DE- Charles Johnson, Thomas Keiser
OLB- James Anderson, Jason Williams
MLB- Jon Beason, Korey Williams ®
OLB- Thomas Davis, Kenny Onatolu (FA), Vontaze Burfict ®
CB- Morris Claiborne ®, Darius Butler
FS- Charles Godfrey, Sherrod Martin
SS- Harrison Smith ®, Haruki Nakamura (FA)
CB- Chris Gamble, Brandon Hogan, Capt. Munnerlyn
Special Teams:
K- Justin Medlock (FA)
P- Kyle Martens (UFA)
KR- Ted Ginn Jr. (FA)
PR- Ted Ginn Jr. (FA)
Finally, my prediction for next years first round pick is Devin Taylor.