Yeah another mock draft, and maybe my final mock draft for Carolina Panthers 2012 Draft. I tried to make the best mock draft with best player available, our needs and the more realistic.
Round 1 Pick 9: Fletcher Cox
DT From Mississippi State
6'4 & 298 lbs
One of our two big need is DT, with Claiborne already gone, no other CB merit a top 10. So the best DT this year is Fletcher Cox, he can play also DE in 3-4. McClain suck and with 14.5TFL and 5 sacks in 2011 Cox is a new starter for week 1 against Tampa. I still believe in Sione Fua who could take the place of Edwards during the season wich is getting old. Fua-Cox for next years is encouraging.
Round 2 Pick 40: Jayron Hosley
CB from Virginia Tech
5'10 & 171 lbs
In my mock 1.0 I choose Trumaine Johnson because have a good size and I'm sick with nickelback (Hello Munnerlyn, Butler and perhaps Hogan), but Hosley for me is the next Asante Samuel with the same quality and default (run support). It's also a potential starter on day 1 but he can not rest on his talent because high competion with Higan, Munnerlyn and Butler for CB2. Hosley is also a great punt returner and he realized 12 interceptions on the last two seasons.
Round 4 Pick 104: Marvin McNutt
WR from Iowa
6'4 & 215 lbs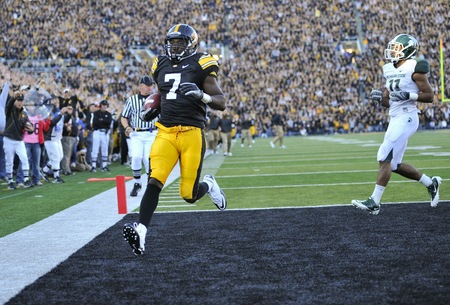 After reinforce our defense, it is time to improve offense and offer new toys for SuperCam. McNutt have a great size and he ran his 40 yards faster than previously tought. With 82 rec 1315 yards for 16.04avg and 12 TDs this year is a sleeper. With our 4th round he can struggle for WR2 with Lafell and Gettis, it's a redzone target potential for our offense, 28 touchdowns at Iowa, I have very high hopes in him.
Round 5 Pick 143: Demario Davis
OLB from Arksans State
6'3 & 230 lbs
Return to defense for an insurance to Thomas Davis with another Davis. Demario is also fast and he have a solid starter experience (3 years with) 223 tackles, 7 sacks, 4 interceptions... With Beason, Anderson, T.Davis, Senn and D.Davis we have a solid group of linebacker for next years, hoping to avoid injury.
Round 6 Pick 180: Desmond Wynn
OG from Rutgers
6'6 & 295 lbs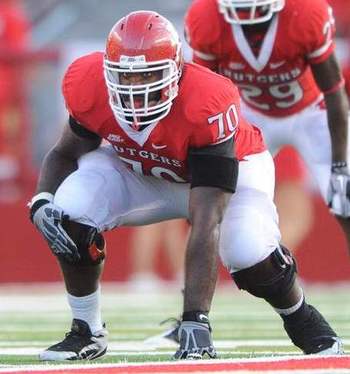 We complete our depth chart with this pick, Rutgers is good football player and I think, he has a role to play in NFL. We have a good OG with Hangartner, Pollak, but none are excpetional.
Round 6 Pick 207: George Bryan
TE from North Carolina State
6'5 & 265 lbs
It is our local product and a big sleeper. Shockay not resign for the time, we have need a TE to go with Olsen and Barnidge. Bryan has the size requiered for the position and it is surely the best TE blocker and also a good hands as demonstrated his 126 rec and 17 TDs in 4 years with the wolfpacks.
Round 7 Pick 216: Drew Butler
P from Georgia
6'2 & 214 lbs
Our new punter for next years and Butler appears attrected the interest of Rivera and Panthers.
(Sorry again for my bad english)