To help liven up this forum, Ive decided to add some spice to this place and profile celebrated and forgotten players of yesterday. A lot of kids today never got to see so many great players play and understand what they brought to the league. This will be a good way to educate those folks about some of the legends of the past. I probably wont do it every day, but different days I'll post one up. The first player I want to do is a HOFer and 50 greatest player that's "underrated" today. A lot of that rests on the fact, he never won a title, but the guy was flat out a beast at the SF position. LeBron James before LeBron James. That player is #22 Elgin Baylor of the Minneapolis/Los Angeles Lakers.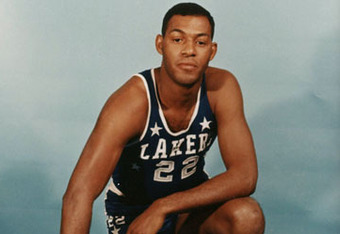 #22 Elgin BaylorPosition:
Small Forward ▪
Height:
6-5 ▪
Weight:
225 lbs.
Born:
September 16, 1934 (Age 77) in Washington, District of Columbia
High School:
Springarn in Washington, District of Columbia
College:
Seattle University
Draft:
Minneapolis Lakers, 1st round (1st pick, 1st overall), 1958 NBA Draft
NBA Debut:
October 22, 1958
Hall of Fame:
Inducted as Player in 1977
Strong and graceful at 6-5 and 225 pounds, Baylor averaged 27.4 points and 13.5 rebounds during his 14-year career with the Minneapolis and Los Angeles Lakers. In 134 playoff games, he averaged 27.0 points and 12.9 rebounds.

From 1960-61 through 1962-63 he averaged 34.8, 38.3, and 34.0 points, respectively. He led the Lakers to the NBA Finals eight times, was a 10-time All-NBA First Team selection, and played in 11 NBA All-Star Games.

At one time Baylor owned records for most points in a game, in a playoff game, and in one half of a playoff game. In 1962-63, he became the first NBA player to finish in the top five in four different statistical categories -- scoring, rebounding, assists, and free-throw percentage.

Because his career paralleled the succession of juggernaut Boston Celtics teams in the 1950s and 1960s, Baylor never played on a club that won an NBA Championship. His best years as a scorer coincided with Wilt Chamberlain's peak years, and Baylor never captured a scoring title.

Moreover, while he was one of the first flashy performers in basketball, many of his best acrobatic plays were never captured on film. Many observers mention his moves in the same breath with those of Connie Hawkins, Julius Erving and Michael Jordan. Baylor played the game with midair body control, employing his ability to change the position of the ball and the direction of his move while floating toward the basket.

Baylor still holds the NBA Finals record of 61 points (and 22 rebounds) set on April 14, 1962 against Russell and the Celtics.
Dude was putting up 30 and 10 before the 3 point line. BEAST!