Below is my first go at this and it's probably going to look pretty crazy and out of left field. There are several different coaching combinations I've been throwing around in my head but this is one is my attempt at being realistic but interesting. The roster moves are somewhat of a shot in the dark but it's only v1.0.
General Manager:
Marc Ross
Director of College Scouting, New York Giants
Head Coach:

Vic Fangio
Defensive Coordinator, San Francisco 49ers
We hire another successful defensive coordinator to be our next head coach. Vic Fangio has had a lot of recent success and will be in the rumor mills for more than one position this offseason. His ties to the organization make him a possible candidate here in Carolina.
Defensive Coordinator:

Todd Grantham
Defensive Coordinator, University of Georgia Bulldogs
Todd Grantham was the defensive line coach for Houston Texans while Fangio served as defensive coordinator. The two improved the Texans' defensive each year they were there together. Grantham has installed a shutdown defense at Georgia that is consistently rushing the passer and forcing turnovers. He seems like a random pick, but the connection with Fangio make it a possibility (and he'd be a solid choice).
Offensive Coordinator:

Jerald Ingram
Running Backs Coach, New York Giants
This is borrowed from CardiacCats' mock draft. I really like the idea of bringing him in as offensive coordinator and his ties with Marc Ross might be enough to lure him. Jonathan Stewart would be perfect in his system, taking a lot of pressure of off Cam's shoulders.
Offseason Moves:

Trade Deangelo Williams
- I think we could get a 3rd round pick for him. I see a team that made the playoffs getting desperate and making a "win-now" decision in the offseason.
Restructure Jon Beason
- There's no doubt Beason wants to stay here in Carolina. He will take a page out of his buddy Thomas Davis' book and work a new deal in order to help his squad out.
Release Jordan Gross
- This is will be a tough move but Jordan is aging and he performance shows. He's still a quality player, but we could use the money elsewhere.
NFL Draft:
I'm guessing we will finish 5-11 and pick 6th overall.
Round 1:
Luke Joeckel, OT, Texas A&M
Jordan Gross will need a replacement. This is the guy for the job.
Round 2:
Xavier Rhodes, CB, Florida State
Captain Munnerlyn will leave as a free agent, Josh Norman hasn't convinced us he's a future #1 corner, and Chris Gamble is starting to age. Xavier Rhodes is a beast and probably won't slip this far but it'd be a great addition.
Round 3 (we trade our 4th this year and 3rd next to move up):
Da'Rick Rodgers, WR, Tennessee Tech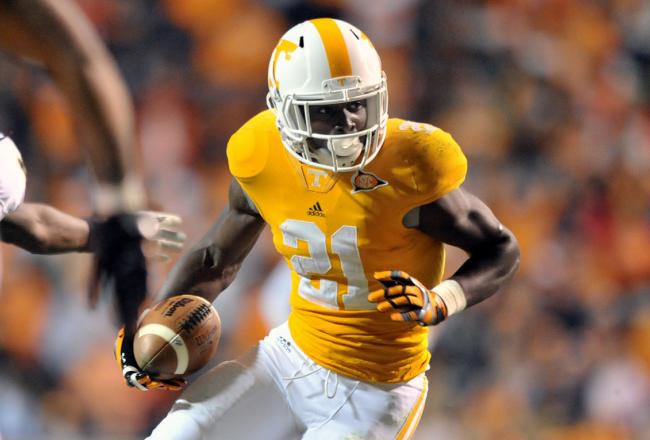 We always move up in the draft and I think we do it in order to get a big receiver. His character issues will take him from a late first/early second to an early third, where we will hopefully grab him. Unbelievable talent, just needs to mature as a person.
Round 3 (Williams pick):
Bacarri Rambo, S, Georgia
This is a position we have to address. Jarius Byrd is not coming here and we can't afford anyone else in FA at this position. Rambo is an electrify player who'd be coming in to play with his college defensive coordinator.
Round 5:
Josh Boyd, DT, Mississippi State
Big boy.
Round 6:
Joseph Fauria, TE, UCLA
This guy is huge (6' 7") and can catch. Get him.
Round 7:
Dustin Hopkins, K, Florida State
He kicks the ball.