Restructure:

Jon Beason
- 2 seasons ago, Beason was considered one of the best inside linebackers in the game. So when he received his large contract, many weren't surprised. However, the signing came while Beason was recovering from an injury which in hindsight should've made us cautious about offering such an enormous contract. When you factor in the amount of time missed due to injury and the fact that he will most likely be moved outside (where he is less effective), Beason has very little argument against a restructure.
Jordan Gross
- He only has 2 more years left on his contract so a restructure shouldn't be very difficult. It would be very hard for us to cut/trade him considering we are already weak at the tackle position. Jordan is a vet who seems to love playing here in Carolina. I don't see this restructure being very difficult on either side.
Trade:

DeAngelo Williams
- We can't afford to keep him. Plain and simple. Let's just pretend we get a 4th round pick from the Dolphins. They are most likely losing Reggie Bush and could be a possible destination. It's almost impossible to predict which team will bite on him, though.
Release:

Chris Gamble
- It will be tough but this move saves us nearly $8 million (half of what we need to cut). It will be hard to trade him anywhere because teams will know they can just sit back and wait for his release. This is an obvious move that will happen fairly early in the offseason.
Haruki Nakamura
- This guy sucks. We better cut him.
Ron Edwards
- He can't stay healthy and isn't even that good when he's actually playing. Goodbye.
Free Agency/Resigning:
After making the above moves, we will be under the cap. The 3 cuts alone save us $12.2 million. Let's just say we in the $5-7 million range under.
Captain Munnerlyn
- With the release of Gamble, we have to find a way to keep Captain. I really don't see many teams throwing money at him and I expect him to stay with the opportunity of being out top corner (scary thought).
Patrick Chung
- He should be a cheap pick up. He isn't a pro-bowl caliber guy but he definitely would be an upgrade over Nakamura and/or Martin. Whether or not he leaves New England is a mystery but if he does come available it'd be a smart move for us.
I also expect us to pickup a couple vets on the cheap side for depth on both lines. Not going to try and predict those guys because there are several we will have the opportunity to pick from.
Draft:
Round 1
- Johnthan Banks, CB, Mississippi State
I know DT/OT are big needs but with the release of Gamble we HAVE to find a replacement. There is no way we are signing a top corner via free agency so if Banks is available at #14 (Milliner would be my top choice but he is top 10) we better take him.
Round 2
- Cordarrelle Patterson, WR, Tennessee
Once again, I know DT/OT are big needs but it's finally time we address the future of our WR position. Smitty is going to be gone soon and LaFell isn't cut out to be a #1. Patterson is big (6'4") and fast (4.40). I really like this guy and if he's available I'd love to have him on the team. Super explosive player.
Round 4 (Dolphins)
- Jordan Hill, DT, Penn State
This draft is pretty loaded with DTs and I think we can find a solid guy in round 4. Hill is a great run defender but needs to beef up a little. His size (6'1" 292 lbs) is really my only concern.
Round 4
- Kyle Long, OT, Oregon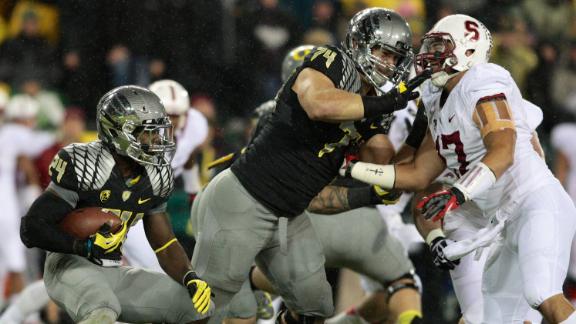 Kyle Long is the son of Howie and brother of Chris Long (it's normally a good sign when a guy comes from a football family). Oregon's OL has been pretty dominant in recent years. They always have a great run game and they run a, fairly, similar offense to what Chud attempts to do with Cam. At 6'4", 311 lbs, he'd be a monster and a great fit for us. I just hope he doesn't climb up the boards.
Round 5
- Caleb Sturgis, K, Florida
This is a trendy pick around here but it's necessary. He's a kicker. He's good.
Round 6
- Collin Klein, QB, Kansas St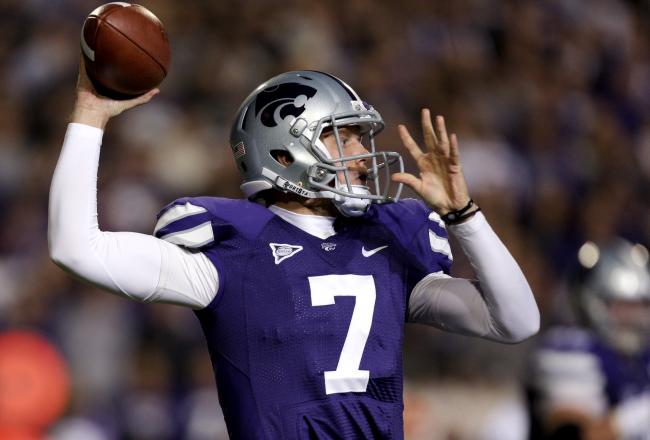 Career backup player but we need someone behind Cam. He wouldn't be a bad option.
Round 7
- James Wilson, OG, Florida
It's the 7th round, just throw some poo at the wall and see what it hits. This guy could be a decent pick up late, though. He's had solid games but isn't very consistent.