Its early in the offseason process, and I havent done one of these offically. Gettleman has said this team needs big men, well i think he meant on every level and not just in the trenches. so here goes one...........
1st round
Keenan Allen WR 6'3 210
If the #1 WR is on the board, I think you should take him. this guy is the most complete WR in the draft, and has produced since stepping foot onto campus at Berkley. one thing i look at with WRs is can they score, and i love to see WRs with 20 or more TDs.he has 17 catching TDs with 2 rushing and 1 PR for a TD.dude can get seperation while running routes, catches the ball well in traffic and out. and when he has the ball in his hands, can make guys miss with moves and vision like a RB. local guy from Greensboro,NC was commited to Bama to play S, but had a change of heart when his brother transferred.
2nd round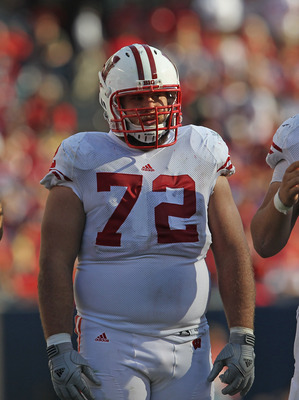 Travis Frederick OG/C 6'4 338
UW is known for producing OL. after starting 2011 at LG, he kicked in to C for 2012 and started all 13 games there. he has started 30 out of 31 games. Coach Bielema called him one of the strongest guys i have ever coached. thinking about how missed Kalil was when he was out, this guy could slide into center without much drop off if need be. but will plug and play RG.
edit: i really wanted to take Sharrif Floyd here, but i doubt he makes it to our pick.
4th round Kwame Geathers NT 6'6 355
dude is huge. is a good athlete for somebody that size,but could have used another year in school.inconsistent at times, and pad level may get high because of height.but since he declared could be had in 4th maybe, and Carolina should run to the stage if he is there. not a stat filler, but can demand a double and push the pocket.plus bloodline plays apart,he could move up the board.
5th round
Brandon McGee CB 6'0 195
top recruit who didnt live up to the hype coming out of HS, but has stepped his game up over the last 2 years at Da U by starting 24 straight games. has been one of the most impressive prospects this week at the shrine game showing great hips and coverage and picking off everything he got his hands on. some now believe he has moved up to around the 3rd round(same was said about Josh Norman), but its early still so ima take him right here in the 5th.
6th round
Manase Foketi OT 6'5 333
big OT that played in the BIG12 up until this past year when he left KState.KSU would not release him from his scholarship so he had to transfer to West Texas A&M on the FCS level of college football where he dominated playing LT. graded out at 95% in every game and was a finalist for D2 lineman of the year.
guess il add a compensatory pick for the 6th
6th round(comp pick)
John Boyett 5'10 205
John was the leader of the Ducks Defense before getting injuried, and having season ending surgery on both knees. in 09 he subbed for TJ Ward and started 10 games where he produced 90 tackles 8 passes defend and 3 INTs. the following year he had 78 tackles 14 passes defended and 5 INTs. his last year playing in 2011, he had 108 tackles 7 passes defended and 1 INT. this guy is a ball hawk and is around it to make plays. he should be healthy after rehab but the medical will scare teams away. this guy is perfect to take a chance on in the 6th round.
let me hear what you think.