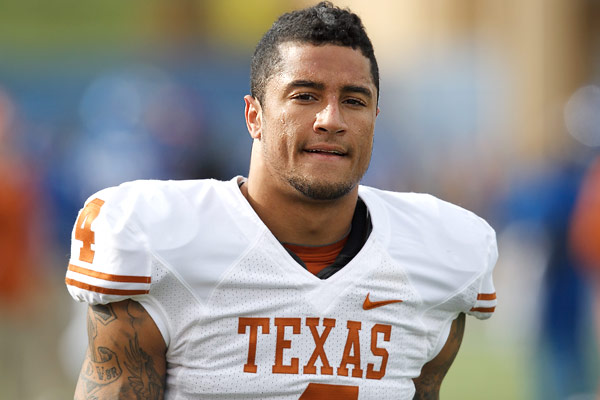 Round 1. Kenny Vaccaro. S. Texas
This draft is so interesting right now, I see so many potential options for us at the 14 slot. There are many players I'm eyeing right now that I really like and can immediately fill needs. None of us ever want to see Naka out there again, and we really have no one else to play beside Godfrey. This is high for a safety but I think he can really be the leader of our secondary for years to come, a role someone is going to have to fill since Gamble won't be back. Gamble not being back is another reason I could see us taking Vaccaro here. Without having a true #1 CB on the roster one Gamble is cut, there is less room for error at the safety spot. Vaccaro had 92 tackles, 4.5 for loss, 5 deflections, 2 interceptions and 2 forced fumbles in 2012. Vaccaro in the secondary and Keek at linebacker are two great cornerstones to build are defense around. Other possible guys here are Chance Warmack, Jonathan Cooper, Cordarrelle Patterson, Sheldon Richardson, Star Lotulelei and Lane Johnson.
Round 2. Jesse Williams. NT. Alabama.
Three guys I like here. Larry Warford and Kyle Long who are both offensive lineman, and then Jesse Williams out of Alabama. I would rather go o-line here, I think it's a bigger need at the moment but I believe Williams is BPA and ready to start from day 1. Today the Panthers said they'd like to resign Dwan Edwards and vice versa, which made this pick even tougher. But I think Williams in the second is too good to pass up. Williams is huge (6'4", 320) and a great run-stuffer, but mediocre at-best as a pass rusher. He had 37 tackles, 2.5 for loss and a sack as a senior. He's still somewhat raw and didn't even start playing football until he was 15.
Round 4. Xavier Nixon. OT. Florida.
Wooo hooo offensive line help finally. Nixon is an intriguing prospect to me. I see a lot of potential in him, but a lot of risk also. He seems to be very inconsistent. He's easily one of those guys I could see as a starter for 10+ years or a guy that's out of the league in three years. It's about how much work he wants to put in. I think in round 4 he's worth the risk. We need multiple upgrades on the offensive line and I hate I didn't address it sooner, but if this kid pans out he could be really, really good for us for many years to come. I'm not saying he's ever going to anchor an offensive line as an LT, I see him being an RT. He could potentially compete with Bell in camp for the starting RT position.
Round 5. Travis Howard. CB. Ohio State
Since we're all assuming Gamble won't be returning, CB will be addressed at some point. Probably in the later rounds. Howard was playing great ball at the beginning of the season, cooled off but still had a very solid campaign. He had 39 tackles, 4 deflections, and 4 interceptions as a senior. At 6'1" 195 he has nice size and could possibly even compete for a starting role in 2013 as our corner position seems like it could be wide open. He'd be a solid get here in round 5.
Round 6. Hugh Thornton. G. Illinois.
More offensive line help here late. Thornton struggles with speed rushers and looked pretty bad in Mobile, but he still has some talent you can hope to delvelop.
Round 6. Dustin Hopkins. K. Florida State.
Ghano kicked well, bring in another Nole and let them duke it out in camp for starting K. My dream is Sturgis, but I bet he'll be gone by here