This is my mock and i'll also do some free agent picks. The Panthers are not as bad as people thought cap wise. I also have an
interesting and different take on the oline through FA
but, that will be coming later...............
Make sure you give me your opinion because it helps me a lot. I will only include one COMP(6th round) pick this time even though they might have two. This is my second mock i think, my last was after the senior bowl.I will have a brief explanation for each, so lets get started.
Well so first I want to trade back in the first round to the 24-28 spot. Now I know there are a few teams that might want to trade up. Colts,Packers or Seattle all could want to move up for a better WR, OG, DE or CB.In return panthers would receive an extra 2nd and 5th round pick. I have saw this done a couple of times. So this could very well be a realistic trade for the panthers in terms of the draft chart points.
OKAY SO LETS GET STARTED!
1. Quinton Patton- Wr that does everything well. He already proved he can go against the big boys when he put 21 rec and over 200 yards on Texas Am, who beat BAMA. This guy is underrated and not many casual fans know him. He runs crisp,quick routes that allows him to get open in the middle and down field. He is also elusive in open space and has deceptive speed. He does not drop many passes and can track the hell out of the ball. Patton is also very good at catching fade passes in the end zone. He finished his season with 13 tds and over 1300 yards.Has been impressive at the senior bowl and the combine.I have heard comparisons to Reggie Wayne and Victor Cruz.
2.Brandon Williams- BIg DT that can penetrate and also COG up the middle to stop the run. He is from a small school but he will be playing by a solid vet in Edwards. He also had a very good senior bowl and combine, which showed he could get down with the big boys. He benched 38 reps(the best mark) and was not slow for his size. I think he can be one of the best DT taken out of this draft.
2.(trade) Darius Slay-CB from Miss. State who didn't get as much as attention as J.Banks but performed just as good. He ended the year with 5 ints with 12+ plus pass break ups. Had a Helluva Combine and played well against big SEC teams. He's was also the fastest(4.3) corner at the combine and also has some size at 6'0. Also Panthers will probably release Gamble for more cap room so CB will be a big need.
4.D.j Swearinger-Play maker at Free Safety. Can HIT HARD and BALL HAWK at the same time. Avg combine so should be here but, he has always been underrated anyways. Panthers need a safety in the worse way to help with the run and pass. LOVE this guy because he is very feisty and is always around the ball. Also you need a guy like this with Brees and Ryan in the division.
5.Kieth Pough- Small school linebacker that will be a steal. Great leadership and makes the sure tackle. Has good size,speed for a linebacker and turned in solid combine. Panthers need help at OLB, watch Bucs and Giants game if you don't agree. Also Beason might not be here. Both OLBs are aging and they have an injury history too. Would be a nice edition with Luke to help stop Panthers from getting run over by rookie running backs.
5.(trade) Chris Gragg-Should be a 2nd rounder but got hurt. Had the best combine(lead in most drills)out of all the TE. CAN run a 4,46 but officially clocked at 4.50. Another BIG catching TE to help Cam when in trouble. Newton also seemed to like the TE a lot when he had Shockey and also could help Panthers become less stagnant in the red zone. He has potential to A. Gates like he just has to really want it.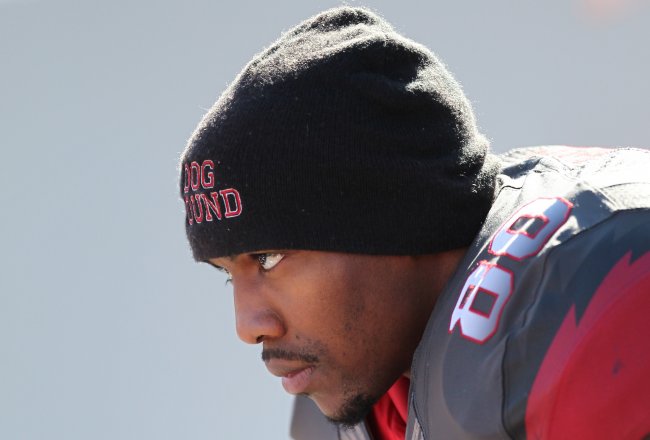 6. Omoregi Uzzi- Big OG that has a mean streak in him. Team was top 5 in the Nation in rushing. Would be a solid ugrade at the rg spot. Panthers have to protect Newton and at the same time this will help the erratic rushing game. While it looks like J-Stew and D-will will still be here next year, this move could help them out a lot. Teams that ran the option well all had good o-line men who could open up holes. Also a 6th round pick, Alfred Morris, ran wild because he had a good o-line.
6(comp).Quanterus Smith-An unknown diamond in the ruff. Q.Smith is a DE that plays at a small school but, he has a lot of upside to be a big time DE in the NFL. Before he got injured he had 12.5 sacks(could have had 16+). His highlight is against Alabama where he beat D.j Fluker for 2 sacks and ended the day with 3 total. Gettleman comes from a pass rushing philosophy so this would be the perfect pick. Disrupting the Qb is the most important aspect of the defense and that's what Smith does. He has been compared to Bruce Irvin, a rookie DE on the Seahawks, who stacked up 8 sacks last year.