Because it feel like we are always working without a third round pick, trading back always seems like the answer. With this particular mock draft I have here, I'm going to do something special. I have a feeling many of you will want to smack me upside my head with this one, but that is just a risk I'm going to have to take. (Course yall know how I roll with mine)
In this draft, I'm doing the unthinkable. I'm going to trade back, out of the first round!
Now let me explain. This particular draft isn't flashy like the one last year, where you had all these can't miss prospects within the top 15 picks. (Andrew Luck, Robert Griffin III, Trent Richardson, Matt Kalil, Luke Kuechly, etc.) However, pretty much throughout the first two rounds, you can find solid starters. Within the first three rounds, we only have two draft picks, and both are in areas where we might just miss good players that are drafted two or three spots ahead. Then obviously we don't have a third round pick. So instead of sitting there at 14, let's trade it for a boat load of picks within the second round, a third, and an extra 4th. So here is my offseason post combine....
Free Agency
Louis Vasquez
Position: Guard
Height: 6'5"
Weight: 335
Vasquez will be our big signing. We should be able to clear up a good bit of cap space to make him a decent offer. Even though Vasquez is looking to get a little payday, teams can make the argument that he has no probowls on his resume, and overall the offense he played in wasn't all that great. This should only be a decent contract we give him, and not a bank breaker.
Quentin Jammer
Position: Cornerback
Height: 6'0"
Weight: 204
A veteran corner who shouldn't cost much. With this signing, our transition to the Carolina Chargers is complete.
Chris Canty
Position: DT
Height: 6'7
Weight: 317
I'm being optimistic here. Maybe Gettlemen can manage some stuff with the cap, that will allow us to bring in Canty. Maybe Canty will take less money to play here if we can convince him we will compete for a championship.
Resignings
Dwan Edwards- Again I'm being optimistic. He's a veteran who just had his best season. Yet some of that credit goes to our two monster DEs. Perhaps he will take a decent contract to remain a Panther. So in all, we have two decent contracts, one veteran contract, and one that perhaps can be managed.
Draft trade
Miami Dolphins get: 14th overall pick
Carolina Panthers get: 2 2nd round picks, 3rd round pick, and a 4th round pick
This will allow us to have three 2nd round picks. One very early which allows us to draft someone who falls out of the first round. Another in the early mid range, and the last one where the Colts would be picking in the second. (Miami got the Colts second rounder when they traded away Vontae Davis) Plus we have the Dolphins early third rounder (allowing us to snag a player who falls out of the second round) and early 4th. In reality, if you count those early picks in the next round as players that fell out of the previous round, it will be like having a late 1st round pick, 3 2nd round picks, and a late third round pick. Now that is forward thinking!
NFL Draft
2nd round pick: Matt Elam
More and more as the days get closer to the draft, I'm starting to like this kid. I already knew he was a great tackler and hard hitter, a solid guy to have in the secondary. My thing was can he ball hawk? When it came to this skill, I found Bacarri Rambo was the best out of this class. Yet Elam's demeanor on the field along with his resume scream at me "I'm a top safety for the next 10 years". So I then ask myself is Elam a good enough ball hawk for me to take over Rambo? The answer to that is a definite yes. His stats support it, and he looks like he would be good for 5 ints a year along with 3-4 forced fumbles. This is exactly what we need in our secondary.
2nd round pick: Justin Hunter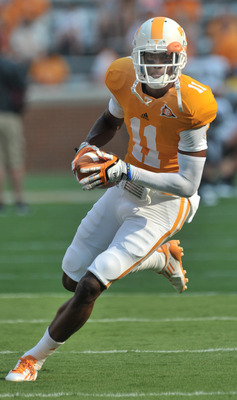 Hunter shown at the combine his ability to leap buildings in a single bound. He also has quality speed. So once you combine those two things, you have a great partner in crime for Cam to work with. Hunter is another solid piece that could come in and start right away. (I still have him as the best receiver in this draft)
2nd round pick: Darius Slay
Before the combine, most draft websites had Slay as a 3rd-4th round pick. However, I already knew he was better than that based on some of the highlight videos I watched, and I knew after the combine his stock would rise. So I figured he would probably rise into the 2nd round. However after running the best 40 time among defensive backs, this dude might get drafted in the top 20. He may get drafted before his teammate. (Of course if Banks has an average or bad pro day, he might be an option at this spot, not based on his workouts but his resume on the field) So I'm going to be an optimist again, and take Slay with our last 2nd round pick. The boy can fly! This showed up in his highlight tapes as they had him be a gunner on special team coverage. With a little teaching, he could be a great corner in the league, really the sky's the limit for him.
3rd round pick: Ryan Swope
Some of you might be thinking 'He just got Hunter in the second round, why is he taking Swope here'? One, Smitty my be hanging it up in the next two years or so. Let's say Hunter becomes our number one and then Smitty retires, we are back to just having one good receiver. So instead of having to look for another receiver, why not pick up another good one in this draft to be our number two for years to come? The second reason why I'm drafting Swope, is I believe he can be an all pro, a true successor to Steve Smith in terms of ability. This guy can run, he proved it with his 40 time. People compare Swope to Wes Welker mostly because he's white, and because he played out of the slot. Yet Swope has the ability to play both the slot and on the outside effectively. I think Swope can be the next Smitty, not the next Wes Welker!
4th round pick: Oday Aboushi
Oday most likely will go in the third round, but if he falls, we should be in prime position to pick him with this pick. He's the prototypical LT, and would be the successor to Jordan Gross. I figure this is Gross' last year as a Panther, so Oday would be our starter two years from now. In the meantime, Gross will show him the ropes of being a great LT, and perhaps a little bit of Gross' wit will rub off on him as well.
4th round pick: Robert Lester
Here's a guy who's draft stock has fallen considerably. If he and Bacarri Rambo came out last year, they would have been sure fired 1st round picks. I still believe Rambo is a top safety who should be drafted late 1st to early second, yet Lester haven't shown me much at all this year. From the time I was watching him this past college season, he was missing tackles, and wasn't as good in coverage. We have to consider the kind of talent he played with throughout his career at Alabama. The year he racked up 8 ints, he was playing with Mark Barron and Dre Kirpatrick, both of whom were first round picks. This year he played with Dee Milliner, who will be a top 5 pick. So in conclusion, his numbers were helped along with the guys he played around, and it showed this year when all he had was Milliner in the secondary. I think he will be available at this point in the draft. Of course with all that said, he's worth a shot here because he still got ints. I don't know if Godfrey would compliment Elam all that well, so perhaps a guy like Lester would.
5th round pick: Dustin Hopkins
I know for most of you, you wait until your last pick to draft a kicker. Yet most college kickers suck. I mean college fans pray for their kickers to make chip shot 40 yarders. Usually there are only one or two kickers in the college ranks that can be an NFL quality kicker. You guys remember Alex Henery? Dude was the best kicker coming out of college a couple of years ago. We as fans wanted to draft him, and most of us were picking him as our last pick in our mocks. Then came the draft, and the Eagles took him in the fourth round. They now have a kicker for the next 20 years or so, and we are still looking. With all that said, even though Hopkins isn't on Henery's level, he's still the best kicker in this class. (I consider the best by both accuracy and leg strength. Sturgis out of Florida only had accuracy down) Let's not wait to wrap our guy up for the next 20 years.
6th round pick: Michael Williams
Perhaps the best blocking TE in the class. Was certainly apart of the best O-line in this class. A great compliment to Olsen.
6th round pick (comp): Joe Vellano
Best DT in the ACC. Could become something special
6th round pick (comp): Eteinne Sabino
A good guy to have on special teams coverage.
Projected Depth Chart (Starters):
Offense
QB- Cam Newton
RB- DeAngelo Willams
FB- ?
WR- Steve Smith
WR- Justin Hunter ®
TE- Greg Olsen
LT- Jordan Gross
LG- Amini Silatolu
C- Ryan Kalil
RG- Louis Vasquez
RT- Byron Bell
Defense
DE- Greg Hardy
DT- Dwan Edwards
DT- Chris Canty
DE- Charles Johnson
OLB- Thomas Davis
MLB- Luke Kuechly
OLB- Jon Beason
CB- Darius Slay ®
FS- Charles Godfrey
SS- Matt Elam ®
CB- Quentin Jammer
Special Teams
KR- Joe Adams
PR- Joe Adams
K- Dustin Hopkins ®
P- Brad Nortman