So as most of you know I traveled all the way from Washington State to Carolina for the first time IN MY LIFE this past week (Wednesday through Monday), and I figured I would share you my experience through pictures and words..If this is a tl:dr post for you, then just look at the picture then...
So let's begin with...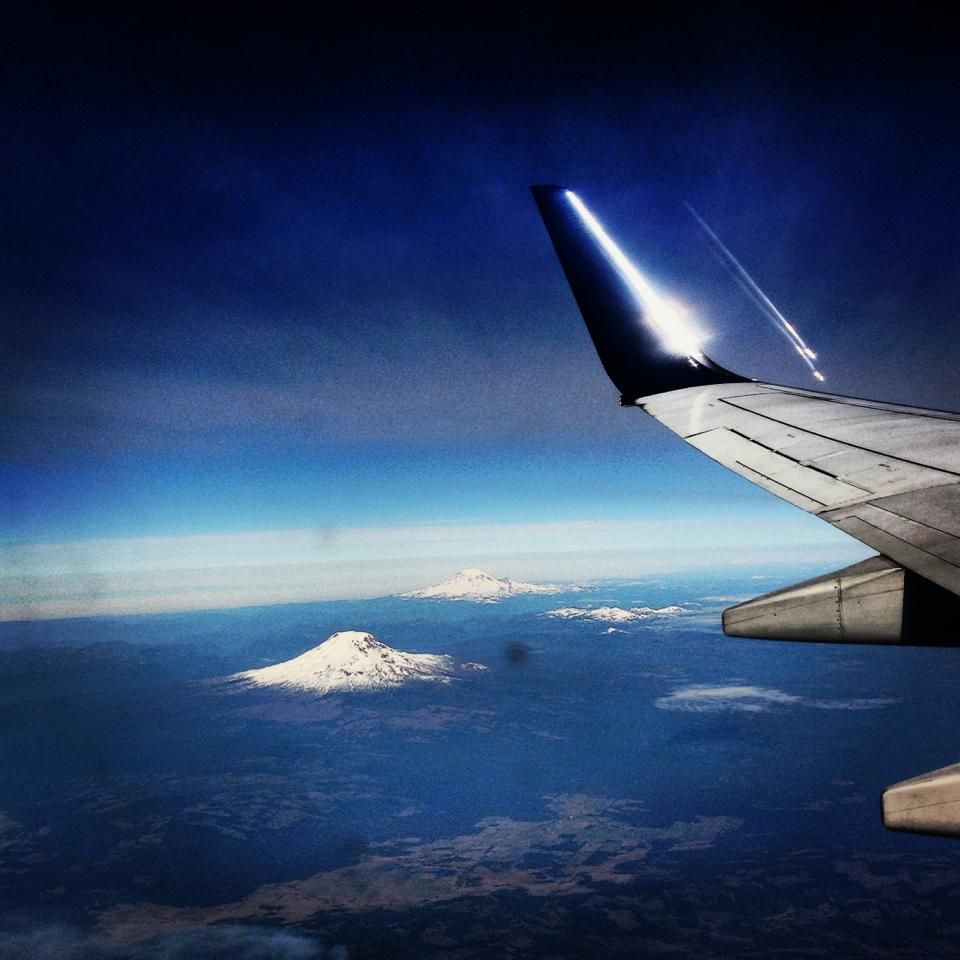 A long flight across the country (believe this is Mt.Hood which is in Oregon near Washington). 3 flights, From Seattle to Portland, from Portland to Detroit (god bless I made it out of there alive) and then to Charlotte. Saw a Bucs fan (Yes a Bucs fan) in a Revis jersey in the Portland airport. Couldn't help but laugh and almost feel sorry...
After hours of flying, I finally reached Charlotte. On our way to the hotel, the first thing I saw were the beautiful skyscrapers here in Charlotte. Duke Energy was lit green on this night, and it was awesome...
So while the first day (Wednesday) involved a bunch of flying and sitting, I finally got to go all over Charlotte on Thursday and experience Carolina. Note this was also my first time being on the East side of the states. Nebraska has been the furthest I've been East, and that's not saying much. To start off my trip, we went to the Bobcats game because we had seen that tickets were literally only 4 dollars, and I have never been to an NBA game before...
What I didn't know however, was that 15,000 middle school kids were attending the game for a "school is cool field trip"...luckily we were given press box type seats, and were no where near the little fugs. However, they did keep me entertained, this kid especially..
So after an impressive pre-season blowout by the Cats, I decided it was time I get my first taste of one of the things I was looking forward to most...Bojangles.
While this is just another restraunt to most of you, I have for the longest time seen in videos/pictures Jerry Richardson with a sweet tea cup everytime he is in his damn golf cart at training camp or gameday (note, that at the game, I saw he had one). Other than that, people talked about this place all the time online and seeing the many commercials back in the day with Smitty and Delhomme, I couldn't resist. Sweet Tea and Bo-Berrys are amazing there, as is the Chicken and Biscuits. You can't find that poo here in the northwest.
At the bobcats game, I had a few of my Youtube followers come and meet me, which was pretty cool. Everyone in Carolina is absolutely classy and very respectful, something I don't see much here. In fact, a kid who followed me on YouTube just randomly decided to give me an autographed Carolina Panthers hat with autos from Hardy, TD, and more because he can get autographs easily being that he lives in Charlotte, unlike me who lives in Washington state. Also, another follower of mine gave me a 97 "prowl towel" which is something I couldn't get here. I resisted with them both saying I can't accept it, but they were both polite and said they WANTED me to have them. Just un-real with how classy and the hospitality that I received on this trip.