I'm glad the college football season has all but wrapped up so that these players have shown us all they have to show in pads. We will see how the underwear changes things up in Indy.
FA-
We will sign some of our own guys, Hardy (at least tag him), Ginn, Mitchell. We sign scrapheap/JAG's to fill holes.
Onto the draft:
Round 1- Jason Verrett-CB-TCU -5'10''-176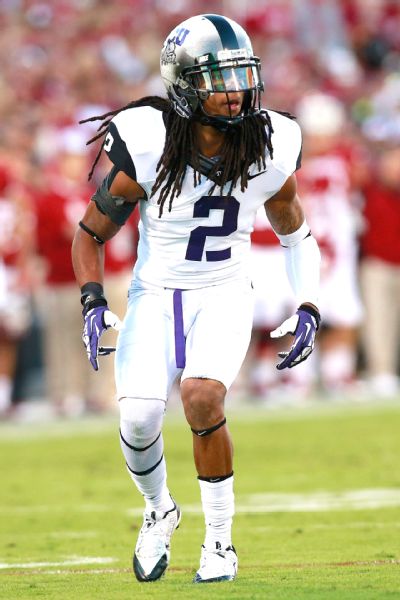 Hell yeah I want to fix the offense, we all do. But I want an elite talent, a day one starter. I don't value the CB position, never have, Reggie Howard and Terry Cousin say "Hi". However I feel like Verrett is a sure thing and BPA. Verrett fits our scheme perfectly with his ability to watch the QB and drive on the ball. Verrett is a bona-fide ballhawk with 8 picks and 30 pass breakups in the last two years. He is also aggressive in run support, a must have for me in a CB. I didn't go with WR here because I feel like outside of the first two guys, they have some question marks.
Round 2-Donte Moncrief-WR-Ole Miss-6'2''-225
This guy has it all, size, 4.4 speed, hands, what he doesn't have it what makes him a second rounder. No 1,000 yard season, no QB to throw him the ball. Moncrief is a bit of a diva, all the good ones are though right? He is a good blocker and shows an intense desire for the game.
Round 3-Billy Turner-OT-North Dakota State- 6'5''-310
Who? FCS player who dominates his FCS competitors, a big, aggressive lineman. Not a guy Walter and the like are talking about, but they will be. Most people want on OT earlier, and one who plays premier talent. I get that, but for me Turner's mean streak and effort sticks out. It's rare to see an O-lineman with the motor on this guy, his athleticism reminds me a little of Marcus McNeil, it's a risk, but one that I think will work out. Look for him to rise from the abyss into that 2nd tier of OT.
Round 4-Richard Rodgers-TE-Cal-6'4''-245
Rodgers is a guy who has average size, average numbers. He excels in gaining yards after contact and has the skills to be a good, not great player. 608 yards receiving this year on a horrible team, with horrible QB play. Cal is bad, bad. His dad is our special teams coordinator, that aside he is worthy at this spot and we need another tight end.
Round 5- Isiah Lewis-S-Michigan State-5'10''-210 We need safety depth at the least. Lewis is a downhill player who comes to the ball instead of waiting for it to get to him. I like that from DB's. Lewis has had 2 picks in each of the last two years, but has a knack for getting his hand in there for deflections. He is a bit undersized at 5'10'' but knows how to tackle low and drop bigger players down to his level.
Round 7- Michael Schofield-OT-Michigan-6'6''-305
The guy is a solid RT for the Wolverines. As you can see, he's not a natural knee bender, he needs to gain some weight. A lot of flaws with this guy, but when you watch the game footage you can see that he gets the job done even though it's not pretty. Would be good depth for our line.
Thoughts?