1. Jake Fisher OT- Oregon- 6'6'' 300 This guy is lean, mean, and fit to handle the modern day NFL pass rushers. This will probably be seen as a reach by some, but outside of Flowers and Collins who I feel will be gone, I feel like Fisher will be the best OT on the board. Should be able to play immediately, unlike other prospects available, ex. Clemmings.
2. Grady Jarrett DT- Clemson- 6'1'' 304
DT isn't an obvious need, but with our two backup DT's having expiring contracts and our stud DT coming off a broken ankle, we are not necessarily deep here either. Jarrett is a little small for the position, but is built like a tank. Jarrett shows good anchor against the run and his best attribute is to stuff and shed blockers to destroy plays in the run game.
3. Rashad Greene WR- Florida State- 6'0'' 180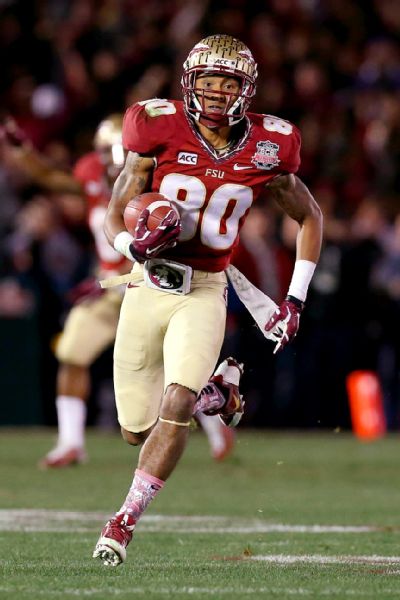 This is one of those times where BPA meets a huge position of need. Greene is rail thin, and that is primarily why he is not projected earlier. I do see the concerns and how he may have trouble with press coverage, however he has back to back 1,000 yard seasons and really knows how to set up DB's and run to open field. For all that he is limited to physically, the ACC couldn't figure out a way to stop him the past 2 years. Greene had 15 career 100+ yard games.
4. Corey Robinson OT South Carolina- 6'7'' 325 Hog Mollie, strong and aggressive in the run game. A good not great athlete for his size, needs to start out as a backup and get coached up. The biggest issue that I've seen with Robinson is the habit of a big mis-step to the outside and getting beat inside. Needs to be coached up to protect inside out, talent and ability is all there.
5. Quandre Diggs CB Texas - 5'9'' 195
Nickelback. 4 year starter at Texas, no hesitation in the run game. Experienced as outside or inside CB in college. Would be a nickel in the league, battle tested with 37 career PBU.
6. Kyshoen Jarrett SS Virginia Tech- 5'11'' 200
Big hitter, plays the run well as an in the box safety. No worse than Landon Collins against the pass, but does blow one every now and then.
7. Derrick Malone Jr. LB Oregon- 6'2'' 220
Quietly posted 190 tackles in the past two seasons. Quick, instinctive, will fit what we do here.
thanks for viewing