Season is over, we're tanking and getting worse by the week. When it comes to this I keep my sanity by looking at draft prospects.
Pick Projection: 5TH OVERALLRound 1. Johnathon Hankins. DT. Ohio State. Junior.
We haven't had a big, disruptive defensive tackle since Kris Jenkins and this has been a very frustrating issue. Well there are some stud defensive tackles in this draft and we have to jump on one of them. I think the secondary is the bigger issue right now, but there are no defensive backs that look as good as Hankins or Lotulelei... I love both these guys and I think we'll be in position to jump on one of them and we have to do it. Fill what has been a huge hole with a guy that can be there for the future and be an anchor on the defensive line for us. He's an outstanding run defender and has excellent quickness to exploit through gaps and blow up plays in the backfield. He's also a solid pass rusher and continues to get better in that area. You can throw Hankins anywhere on the defensive line and he'll find success.
Round 2. Kenny Vaccaro. Safety. Texas. Senior.
This is a kid I love whose stock continues to rise. In his first year as a starter he was named all conference his football smarts are exceptionally good and and he does a great job leading the Texas defense, getting everyone aligned correctly and such. He does a great job of reading the quarterback and he makes great breaks to close in on the ball and make a play. While he plays strong safety at Texas, most scouts project he can play either safety spot in the league. He would come in and start day 1 along Charles Godfrey and will be a great young addition for any team that snags him. While right now he's projected as a late second to early third round pick by the end of the season I think there's no doubt he'll solidify himself as a second rounder.
Round 4. Chris Gragg. Tight End. Arkansas. Senior.
Our offense really needs to find another tight end who can become a consistent threat, we're really missing Shockey. I really hope we look for one in the middle rounds this year and this is player I like right now. Arkansas has struggled this year but Gragg is still showing solid production with 19 catches, 234 yards and 2 touchdowns. As a junior he had 41 catches for 518 yards and 2 scores. Gragg has good 4.53 speed for a tight end and has potential to be a really solid offensive threat in an offense for years to come. I would like taking a guy like him in the fourth round and try to groom him into another solid offensive weapon for Cam.
Round 5. Justin Pugh. Offensive Tackle. Syracuse. Senior.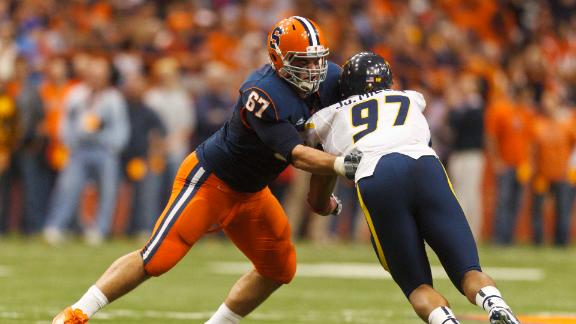 The offensive line has been bad this year and we need to add some depth there at some point in this draft. Pugh looks like a really nice sleeper right now as a developmental prospect that can be groomed into a starting tackle one day or play guard. That's exactly what we need, a versatile kid like that. I won't say much on Silatolu right now other than that I think he's going to be a solid player one day, but Hangaertner has been pretty bad this year. If you add Pugh you can try to convert him into a guard or try moving Bell to guard and play Pugh as a right tackle. I think this kid will find a spot in the league and he'd be a great pickup in the fifth round for us.
Round 6 Louis Murphy
pick goes to Oakland
Round 7. Quinton Patton. Wide Receiver. Louisiana Tech. Senior.
As good as this kid is playing he may not be available this late, but if he is I'd love to scoop him up late. Patton is a sure-handed receiver that I think is going to be a monster steal on day 3. He had over 1,200 yards and 11 touchdowns as a junior and is off to a fast start his senior year, he's came a long way after he transferred from a community college before his junior year. He's really exploded onto the scene and is a legitimate NFL prospect at 6'2" 195 and runs a 4.58. He's a low risk high reward guy right here.
Before you all explode saying "ONLY TWO DEFENDERS???" let me explain myself. We already have a roster log-jammed of a young, mid to late round defenders and we don't need to add anymore. I'm sorry, the answer to our corner back problems does not exist in the fourth and fifth rounds as hard as Hurney wants to try. Our first two picks give us two starters at huge needs on the defensive side of the ball and since we don't have a third round pick I see no point in in adding anymore mid and late round defensive players. You guys get what I'm saying? I mean, our future number 2 corner is not in the fifth round, instead that just causes more traffic on our defensive roster.