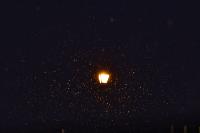 About This Club
I'm an amateur photographer and video editor. Let this be a place to share some of the things you create, give feedback and suggestions, and have a good time. Please keep it to work you have created or modified on your own.
What's new in this club

All were edited in the normal photos app outside of the pictures that had no editing at all: the dog, the dew, and the night time plane weren't edited.

I love catching light rays! Did you edit your photos at all? The sky's appear just a little BLUE to my eyes =P

I'm pretty lucky I have Adobe Creative Cloud through my school. But I am quickly growing more and more frustrated with it lagging and crashing. For a while I've played with Luminar 3 and 4 (which I got with Humble Bundles for super cheap) for a while, I never really used them because LR was working so well. Well times have changed. I picked up Luminar AI, which I was familiar with, and excited after seeing the demo stuff. Now, it doesn't reinvent the wheel, but it has sped up my workflow. The only kicker to me is the loading between images that happens. I get to the results I like

I still can't believe I managed to snag this image on my phone of all things.

I mainly shoot on my Canon 80D and the 18-135 kit. I set up an off camera flash in front of and above to try to create a "beauty" style light.