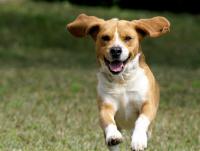 About This Club
For the pet lovers of the Huddle where we appreciate that most dogs are a helluva lot better than most people.
What's new in this club

It's really special seeing the relationship between children and animals. We had two cats with my son was young, and he still talks about them, keeps pictures of them. It sounds like your boxer mix had a pretty rockin' life =)

It is really amazing how that 4 legged animal who cannot talk just seems to know when you had a bad day and what we need to make everything better. On days my back is giving me a hard time my Basset and Mini Schnauzer stay close do not leave my side.

Had a bit of a day today but Jades head in my lap and her deep "ah, so what" exhale made it all better.

That sucks. I never understood dog fighting for sport, or people fighting for that matter. My first boxer mix, Scooby, just showed up in the yard one day. House broken and great with the kids so he just kind of moved in. I was active duty military and it wasn't too uncommon for people to drop off their pets in other areas when they moved. He was a great dog, moved from NC to Utah, then back to NC when I retired, went on vacation to southern CA to visit inlaws, Traveled the distance extremely well. I stopped and took him out 2 times a day. I hope the 12 years he spent with us were good.

She has several different barks! The worst are the "someone is at the door" bark. It's so shrill! Generally, she's a pretty affectionate girl. She's our princess dog, dainty, careful, super sweet. When she gets the zoomies going, she's off like a shot. She loves ball play and going on walks. I wouldn't describe her as super active. She's not destructive. She's just super sweet. Now she does have some SERIOUS anxiety. In her previous life, she was a bait dog in a dog fighting situation. Someone broke her teeth out so she couldn't fight back. It happened really young. She h

Love it when a black dog gets gray in the face. It makes them look so wise and distinguished.

A boxer beagle mix, what is her personality? That should be a very active dog! Does she have the different beagle barks?

Two of our "dogter" Matilda (Tilly, aka the Wild Animal). She's an American Bulldog-American Staffordshire mix.

My old girl is Half pit - half lab. Parents were supposed to breed their own respective breeds and shacked up. Whoops! Let's my kids tug, pull, climb all over her.

Rescue black lab mix. Her tail is chopped and she has a funny bowl legged walk, and she loves to help yell at the cats when they do stupid poo.

I love big dogs! I wish my dogs traveled well, they don't at all. One gets car sick, the other wants to sit on the driver and barks the whole time...

I have two rescue dogs, Minerva is my Stafford Shire Terrier and Taylor is my Boxer-Beagle mix. Both of my girls had a really hard life before they were rescued. As you can see, they live a life of luxury. Though don't tell them that, they often think they are neglected, never fed, and never loved! Oh the life of a dog! I

My first Basset, I have always had big dogs, Rotts, Boxers, German Shepard, after a very bad experience with a rescue and a bad back, knees, and shoulders i couldn't handle a big dog anymore. I looked for the laziest, gentle, loves everyone and everything breed and found basset. He is a little smaller, 50 pounds, and sheds more than any other dog I have had, stubborn as hell, but he is the absolute most gentle, loving dog. I have to shoe the cat away from his food because he will let him eat it. Wouldn't give him up for anything.

My childhood dog was a Bassett Hound. I got him for my second birthday. He lived to be 15 and passed away not long before I graduated high school.

Allow me to introduce Rocket, 4 year old basset hound named after GOTG Rocket, Lzzy, 3 year old Mini Schnauzer, named after Lzzy Hale, lead singer of band Halestorm, a little girl with attitude and a big voice. Cotton, 2 year old PicaPom, got her from my mother when she could not care for her anymore. And finally, Fred Bob Cat, my daughters cat. Have no idea how old, was a stray we rescued.